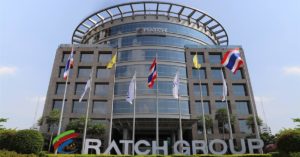 Ratch Group Plc, Thailand's largest private power generator by capacity, acquires a 51% share in Sahacogen (Chonburi)
Ratch Group Plc, Thailand's largest private power generator by capacity, continues to expand its electricity generation capacity by acquiring a 51% share in Sahacogen (Chonburi) Plc, the power generation arm of Saha Group Plc, a major consumer goods distributor and manufacturer, at a cost of 3.4 billion baht.
The company will buy ordinary shares from Sahacogen shareholders and subscribe for a purchase of newly issued ordinary shares of Sahacogen, according to a report submitted to the Stock Exchange of Thailand.
Choosri Kietkajornkul, chief executive of Ratch, said the investment in Sahacogen is aimed at building an alliance between the two companies.
Ratch will acquire a 33.07% share, from 34 Sahacogen shareholders, including Saha Pathana Inter-Holding Plc, at 2.21 billion baht, she said.
Share value stands at 5.75 baht per share.
Its share subscription, to be made at 1.19 billion baht, will give Ratch a further 17.93% ownership.
Ratch plans to raise funds through loans or its working capital for the investment.
The company will be also required to make a tender offer for a remaining 49% share, worth 3.3 billion baht, in Sahacogen.
"Sahacogen has expertise in developing power plant projects while Saha Group Plc is a large business group in the consumer goods manufacturing and distribution segment," said Ms Choosri as she expects a good business prospect.
This investment is in line with Ratch's plan to increase its total electricity generation capacity to 10,000 megawatts by 2025, up from 8,292MW at present.
Sahacogen currently operates a total of three power plants. They are a 214-megawatt gas-fired power plant in Chonburi Industrial Park, a 9.6-MW biomass-fired power plant in Lamphun and a 7.5-MW biomass-fired power plant in Kamphaeng Phet.
Sahacogen also owns a 21% stake in Impact Solar Co, a developer and operator of rooftop solar business, which sets a target to have 53MW in electricity generation capacity.
Ratch shareholders earlier approved a plan to acquire two coal-fired thermal power plants, with combined capacity of 2,045MW, from PT Paiton Energy (PE) in Indonesia.
Source: https://www.bangkokpost.com/business/2206463/ratch-sahacogen-ink-deal