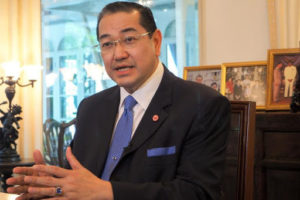 Raimon Land appoints Prof Surakiart Sathirathai as chairman
Raimon Land Plc (RML) has appointed Prof Surakiart Sathirathai as honorary chairman in its attempt to become Thailand's leader in luxury real estate development.
Kris Narongdej, committee chairman of RML, announced the board approved the appointment of honorary chairman.
"The company firmly believes Prof Surakiart, a former deputy prime minister and finance minister, is a highly qualified person who has the knowledge, abilities and experience to drive Thailand's economic growth," said Mr Kris.
In addition to a long list of professional experience as president of many organisations, Prof Surakiart was once chairman of an RML committee for over a year.
"With outstanding qualifications and no restrictions according to the Public Limited Companies Act of 1992, the regulations of the Securities and Exchange Commission, and The Stock Exchange of Thailand, Prof Surakiart took up the position from Aug 26," said the RML press release.
Prof Surakiart's role includes providing strategic direction and advising board members and executives; leading RML to succeed in maintaining its position as Thailand's leader in luxury real estate development; and helping the company achieve its goals with sustainable growth in the future.
Source: https://www.bangkokpost.com/business/1978891/raimon-land-appoints-surakiart-as-chairman