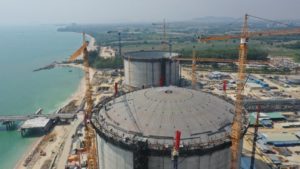 PTT-Egat co-invest in the second liquefied natural gas (LNG) receiving terminal project in Rayong, Thailand
State-run Electricity Generating Authority of Thailand (Egat) has signed a joint venture agreement with PTT Plc to co-invest in the second liquefied natural gas (LNG) receiving terminal project in Rayong as part of the government plan to develop a regional LNG trade hub.
The new facility, called LMPT2, is expected to require Egat to spend around 20 billion baht.
PTT initiated and built LMPT2, worth 41.4 billion baht, in Nong Fab starting in 2019. It expects to start operation this year, enabling Thailand to import more LNG.
The second receiving terminal is designed to have carrying capacity of 7.5 million tonnes a year. When combined with the first receiving terminal, operated by PTT in Map Ta Phut in Rayong, the total capacity increases to 19 million tonnes.
"This [LMPT2] project is one of the largest co-investments in the history of state enterprises," said Auttapol Rerkpiboon, president and chief executive of PTT.
He said the new facility will help enhance the national fuel supply for power generation and the industrial sector.
The co-development of LMPT2 followed the decision by the National Energy Policy Council (NEPC) to have Egat and PTT serve as key agencies to drive the government's regional LNG hub plan, said Egat governor Boonyanit Wongrukmit.
Egat along with six other firms were granted LNG shipping licences to support the state policy to deregulate the LNG market.
The NEPC wants Egat to make a 50% investment in LMPT2 instead of building a floating storage regasification unit (FSRU) in the upper part of the Gulf of Thailand.
The FSRU was meant to supply gas to projects at Bang Pakong Power Plant and South Bangkok Power Plant.
However, the NEPC decided to scrap the FSRU project because it is less commercially viable than a FSRU project in the lower part of the Gulf of Thailand, meant to feed gas to a new Egat-run power plant in Surat Thani's Phunphin district, according to an energy official who requested anonymity.
PTT is looking forward to further cooperation with Egat.
"We may seek a new opportunity to work with Egat in developing another LNG receiving terminal located in southern Thailand," said Mr Auttapol.
The PTT-Egat co-investment in LMPT2 paves the way for the government to achieve its goal of becoming the regional LNG trade hub, said Energy Minister Supattanapong Punmeechaow.
Source: https://www.bangkokpost.com/business/2264823/ptt-egat-co-invest-in-lng-depot