Proud Real Estate continues with the construction of InterContinental Residences Hua Hin
THB 2 billion earned in sales in two months from launch, as Hua Hin becomes the "Thailand Riviera" thanks to upcoming motorway, high-speed train and new domestic flights
Proudputh Liptapanlop, Managing Director of Proud Real Estate, was enthusiastic that following the success of the "Feast De La Mer" campaign, the firm has announced the extension of the program until the end of August.
Prospective clients were exclusively invited to experience the InterContinental lifestyle with exclusive activities and a site visit, with freedom to enjoy the beach and grounds of InterContinental Residences Hua Hin.
Extension of the program facilitates families seeking to spend quality time away from Bangkok during the weekends.
Feast De La Mer has already propelled sales of InterContinental Residences Hua Hin to soar in the first two months, from June to July 2020, with the tally hitting some two billion baht.
Meanwhile, Proud Real Estate is proceeding with construction of the project at full throttle and has assigned Pre-Built Public Company Limited to manage the project and oversee the site and the construction. The project is expected to be completed in 2022.
Khun Proudputh also pointed out that the familiarisation activity shows how revered Hua Hin is as Thailand's top beach vacation destination. With its comprehensive amenities, shopping malls, restaurants and eateries, renowned hospitals and so forth, the location offers everything needed for a fulfilling 'new normal' lifestyle. The timing is also right as city dwellers look for residences outside the capital to escape to from the likes of COVID-19.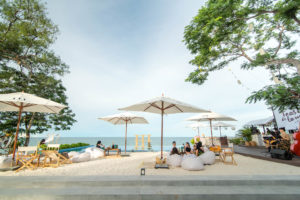 Local tourism is booming in Hua Hin as it has become a prime choice among discerning travellers taking advantage of the government's Teaw Pun Suk package and Rao Teaw Duay Kan campaign, launched on 15 July, where room rates and flight costs are partially subsidised by the state.
Compared to other major tourism destinations, Hua Hin will soon offer more comprehensive transportation infrastructure, including a motorway, high-speed train and new domestic flights. Hua Hin is also soon to reap the benefit of the government's tourism boosting initiative along the eastern coast, known as the Thailand Riviera. This includes the development of a coastal road along the eastern seaboard from lower central Thailand to the uppermost south, including Samut Songkhram, Phetchaburi, Prachuap Khiri Khan, Chumpon and Ranong, thereby raising the standard of tourism to international level. Construction of the infrastructure is currently underway.
Moreover, there are plans to construct fundamental infrastructure to support the Thailand Riviera initiative, including a motorway from Nakhon Pathom to Cha-Am that will make traveling to Hua Hin more convenient. The plans also include a high-speed train from Bangkok to Hua Hin, a double track railway from Nakhon Pathom to Chumpon that has already started to operate, and extension of Dao Khanong-Bang Khun Thian expressway to reach Thonburi-Paktor to ease traffic congestion.
Besides land transportation, Hua Hin airport will soon become operable for tourism, to add even more comfort and convenience to travellers with the future Bangkok-Hua Hin route expected to be especially busy. Airlines are also firing up to launch more routes such as Chiang Mai-Hua Hin, Udon Thani-Hua Hin and direct flights from Hua Hin to Phuket in the near future. With all infrastructure combined, Hua Hin will become a significant gateway to tourism in the south of Thailand.
Besides being a vacation home for an understated weekend getaway, InterContinental Residences Hua Hin also renders itself as an everyday permanent residence that comes complete with ample facilities and amenities that cater to the new normal, enhanced by 24-hour service by the globally renowned hotel brand. With its unparalleled quality and offerings to accommodate family life, InterContinental Residences Hua Hin has met with phenomenal feedback since its launch.
Experience the elevated, unparalleled living at the InterContinental Residences Hua Hin sales gallery and showroom at Hua Hin Soi 71. For more information, visit www.intercontinentalresidenceshuahin.com or call 02-026-8999
Source: https://www.bangkokpost.com/thailand/pr/1976247/proud-real-estate-continues-with-the-construction-of-intercontinental-residences-hua-hin