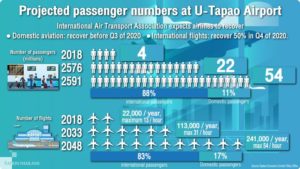 Progress revealed on U-Tapao Airport and Aviation City project
By The Nation
The Eastern Economic Corridor (EEC) Policy Committee has revealed progress on the Bt290-billion U-Tapao Airport and Eastern Aviation City scheme after signing a joint-investment deal to construct the megaproject in June.
The Aviation City will radiate 30 kilometres from U-Tapao Airport and house aviation businesses, logistics, tourism facilities and more, said EEC Committee secretary-general, Kanit Sangsuphan.
U-Tapao Airport would serve at least 15 million passengers per year, bringing three million tourists and an additional Bt75 billion to Bt100 billion annually to Rayong province, he added, speaking at a recent seminar titled "U-Tapao Airport: Aiming to be the third international airport of Bangkok".
The airport would also create about 230,000 new jobs, more than half of the 475,000-strong EEC workforce.
U-Tapao International Aviation Co Ltd won bidding for the project's construction and 50-year concession with a bid of just over Bt272 billion, or 90 per cent of the total Bt290 billion budget. The Bt272 billion will be used to construct the terminal, ground transportation centre, warehouse, free trade area, apron for 102 aircraft, and commercial areas.
The government is investing the remaining 10 per cent, or Bt17.768 billion, to construct the second runway.
Since the airport is deemed security infrastructure, the state will own the project.
U-Tapao Airport is expected to generate economic benefits of Bt189 billion.
The project's master plan, including environmental and health impact assessments, will take 18 months to complete.
Construction is scheduled to begin at the end of 2021 and the first phase to open in 2024, with completion of the high-speed rail project connecting U-Tapao with Bangkok's Don Mueang and Suvarnabhumi airports and the aircraft repair centre.
U-Tapao's Aircraft Maintenance, Repair and Operating centres (MRO) project has procured 500 rai for construction – 200 rai for Thai Airways International and 300 rai for other airlines with total investment of at least Bt30 billion.
The MRO centres are included in Thai Airways' business rehabilitation plan. One of three investment options will be chosen and finalised in January-February 2021: Continue to invest with Airbus, invest without Airbus but use Airbus technology, and co-invest with other aviation companies.
Anawat Leelawatwattana, director of U-Tapao International Aviation Co, also revealed more about the management of U-Tapao airport.
"We are in talks with Narita Airport executives to manage U-Tapao airport as the two airports share similar characteristics, such as being international airports serving capitals from outside the capital. Public transportation is required to transport passengers between the capital and the airport. Narita Airport also has modern passenger technology such as passport-free face-scanning systems to maintain distancing and prevent the spread of Covid-19," he said.
Meanwhile, overall investment in the EEC is on target to meet its five-year (2017-2022) goal of Bt1.7 trillion, with Bt900 billion recently registered or applied for at the Board of Investment (BOI).
The investment is split into Bt240 billion for the high-speed rail link between three airports, Bt55 billion for phase 3 development of Map Ta Phut Port, Bt290 billion for the U-Tapao Airport Project, and the rest private investment in various industries.
The remaining two years of the EEC target will see large-scale investments in infrastructure, namely phase 3 development of Laem Chabang port and the Aircraft MRO Project, with total value of Bt150 billion. Private investment in 2020 will total about Bt120 billion, about Bt250 billion in 2021 and about Bt350 billion in 2022.
Source: https://www.nationthailand.com/business/30394935