Plan to connect Koh Samui island to the mainland by bridge mooted
During the recent visit of tourism and sports minister Pipat Ratchakitprakarn to Koh Samui a plan to connect the holiday island by bridge to the mainland was mooted.
This is the idea of hotelier and designer Wirat Pongchababnapha who thinks it will stimulate tourism. His design incorporates a to and from lane for bicycles, he said.
A graphic on "thebangkokinsight" showed an 18 kilometer structure costing an estimated 30 billion baht. It would go from near the current ferry terminal (Donsak) in Ao Thong Nian, Khanom, Nakhon Sri Thammarat to the southern tip of Koh Samui at Phuaka.
The media printed no comments from the minister or even stated if the proposal had been seriously discussed.
They said that the tourism situation on Samui, Koh Phangan and Koh Tao was dire. A bridge to the main island might help with visits to the other islands.
At present there are just two ferries operating in the day and a nighttime speedboat. Flights are expensive they said.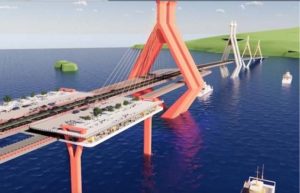 Data from 2018 showed there were 2,651,500 visits to Samui that made up 43% of all visitors to Surat Thani.
The tourists spent 64 billion baht or 63% of the provincial Surat Thani total.
Thais were 40% of the visitors, foreigners 60%.
Another proponent of the bridge idea is the director of the hospital on the island Dr Khamrop Decharatanawichai who said that it would help carry the sick when they needed to be transferred to the mainland.
Between 2017 and 2019 around 350 patients a year had to be transferred using the daytime ferry. Others were transferred at night by speedboat but high waves often presented problems for this.
The journey could be 5 – 6 hours and a bridge would help as every minute counts with the sick, he said.
Source: Thaivisa & https://www.thebangkokinsight.com/252459/