Electricity or tourism is the big choice in the energy-starved South
Tourism operators and local communities in the South have urged the government to choose between energy security and sustainable tourism.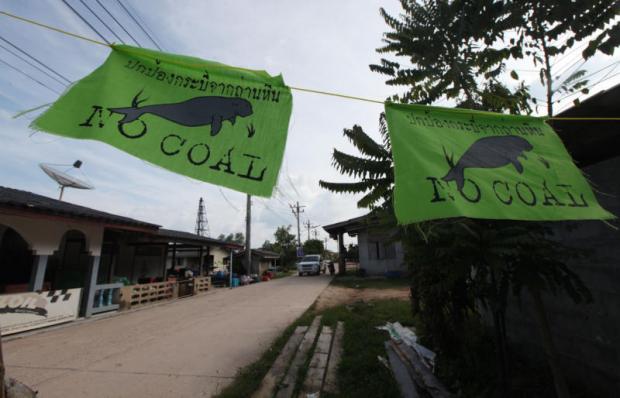 Anti-coal banners can be spotted around Krabi's Nua Khlong district, where locals are fighting against the construction of a second, bigger coal-fired power plant. THITI WANNAMONTHA
With tourism seen as a major lifeline helping to shore up the country's tepid economy, government support for setting up a power plant in a tourist destination rich in natural resources is simply contradictory to its tourism promotion plan, says Teerapoch Kasirawat, a hotelier and president of the Koh Lanta Tourism Association in Krabi province.
He recently joined tourism operators in Phuket, Phangnga, Krabi, Trang and Satun provinces to form the Save Andaman from Coal Network.
The network on Monday asked the Tourism and Sports Ministry to persuade the cabinet to scrap a planned 50-billion-baht coal-fired power plant in Krabi and shift to alternative energy instead.
The group fears the power plant would adversely affect not only fishing but also tourism along the Andaman Coast, which generates revenue of 300 billion baht a year.
The network also urged the Electricity Generating Authority of Thailand (Egat), power plant project owners and plant opponents to exchange information about possible effects.
Mr Teerapoch says the coal-powered plant will hurt confidence among high-end tourists, particularly Scandinavians.
"Krabi is a world-class tourist destination. The National Reform Council has proposed registering the Andaman Coast as a Unesco World Heritage Site, while the government itself is keen on promoting sustainable tourism as a major source of natural revenue to help offset shrinking exports," he says.
"The coal-fired project in Krabi is causing local residents and tourism-related operators to wonder what exactly the government wants to promote."
Mr Teerapoch says the new high-capacity, coal-fired power plant will require a channel big enough to accommodate large coal tankers.
Particles from large vessels and hazardous substances from electricity generation including mercury could spread and affect marine ecological systems.
Coal tankers would have to pass close to major tourist islands such as Koh Lanta, Koh Phi Phi, Koh Lipe, Koh Kradan and Koh Mook, and authorities would need to consider the possibility of accidents en route, Mr Teerapoch says.
While Phuket is called the Pearl of the Andaman, Krabi has been praised as the Emerald of the Andaman Sea.
Krabi is also a Ramsar site in accordance with the Ramsar Convention, formally the Convention on Wetlands of International Importance, Especially as Waterfowl Habitat, signed in Ramsar, Iran in 1971.
The relevant wetlands in Krabi are in Muang and Nua Khlong districts, the latter being the proposed site of the coal-fired power plant.
The two districts together form the biggest zone of seagrass in Thailand and are thus an important sanctuary of economic aquatic animals such as fish and squid as well as sea turtles and dugongs.
There are also intertidal sand beaches, more than 100 species of birds and a 75-million-year-old fossil site.
"We don't want to repeat the fate of Map Ta Phut or Mae Moh," Mr Teerapoch says.
"The Andaman Coast of the South should be preserved for tourism, not for industry."
The association surveyed 625 tourists from 37 countries and found 88% of respondents considered a coal-fired power plant dangerous to the environment, while 85% said they would not return to Krabi if such a plant existed.
Amarit Siripornjudagun, president of the Krabi Tourism and Hotel Association, says local residents and tourism operators want the government to support clean energy projects, particularly those fuelled by biogas from palm oil and rubber production.
A zero-waste project has already existed in Krabi for two years.
Operators of processing plants for palm oil and rubber are encouraged to turn waste from their factories into biogas to generate electricity, simultaneously reducing the effect of their waste on local communities.
Of 30 such plants in Krabi, 13 now generate electricity and sell it to Egat, while the rest are prepared to follow suit but are blocked by a lack of power transmission lines.
Mr Amarit says if this obstacle can be addressed, power from these plants could meet electricity demand in the province.
And if the initiative were expanded to hundreds of palm oil and rubber factories in the South, there would be enough biogas to generate electricity and serve power demand in the entire region, he says.
"We don't want to ignore energy security but would like the government to look at the big picture. Support for electricity generation from biogas would solve the problem of cheap palm nuts, which now requires annual government subsidies," Mr Amarit says.
"Formation of the Asean Economic Community is expected to cause the palm nut price to fall further since Thailand cannot compete with Indonesia. If the government replaced the planned coal-fired power plants with biogas or biodiesel facilities, that would be acceptable to us."
Prasitchai Nunuam, coordinator of the Remote-Powered Mechanical Network, which is a member of the Save Andaman from Coal Network, says clean energy is a global trend.
He cites Germany's announced determination to reduce carbon emissions and China's closure of its coal-fired power plant in Beijing to relieve pollution.
An Egat study has also raised questions, particularly about its responsibilities and ecological damage.
"Only production costs were mentioned in the Egat study," Mr Prasitchai says.
"Potential costs of environmental management in the event of any environmental problems were not mentioned."
He is calling for an in-depth study into the government's new power development plan, particularly regarding which investors would benefit from coal imports.
The network cited a call by the UN's Intergovernmental Panel on Climate Change for a reduction in fossil energy to help alleviate global warming.
"We're not demanding the closure of all coal-fired power plants or rejecting energy security, but we would like to propose solutions for national sustainability for the sake of the public interest, not that of capitalists," Mr Prasitchai says.
His network has propose the government support power generation using solar cells and develop infrastructure to source electricity from palm oil factories.
It believes serious support in these areas would raise private electricity generation to a level that sufficiently served power demand.
Nonetheless, Egat argues that renewable energy such as hydroelectric power plants and solar cells have unstable production capacities, are not commercially viable on an industrial scale and require huge investment.
Egat also insists a high-capacity coal-fired power plant in Krabi is essential to electricity security in the South and would make no environmental impact.
It expects a response to its environmental impact assessment late this year and is prepared to meet with concerned communities and operators to allay their fears.
Krabi was selected because it is the location of an older coal-fired power plant of 200-megawatt capacity.
The planned new facility has been designed to generate more than four times as much electricity at 870 MW.
Using the same location will limit costs and avoid land expropriation that would affect local residents.
Egat also says coal transport will be a closed system that meets German and French standards and the demands of all concerned parties.
The Krabi power plant project is part of Thailand's power development plan, which is intended to reduce the country's dependence on gas.
The plan calls for nine coal-fired power plants with a combined generation capacity of 7,390 MW, which will also help to control electricity fees.
Over the past year, southern electricity demand peaked at 2,700 MW.
The South has been forced to obtain electricity from the central region since local plants can now produce only 2,300 MW.
Electricity demand in the southern region grows by 6% a year on average.
Source: http://www.bangkokpost.com/business/tourism/566863/people-power-against-coal-gains-steam