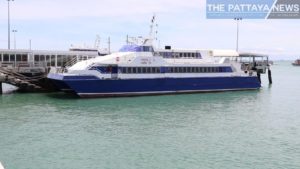 Pattaya to Hua Hin ferry service officially ends
The ferry between Pattaya and Hua Hin has officially stopped their service, this time seemingly permanently, due to the ongoing Covid -1 9 pandemic and lack of foreign tourists since March of last year.
The ferry service between Pattaya and Hua Hin was first suspended due to the Chonburi COVID – 19 Communicable Disease Committee prevention orders last year.
Meanwhile, a brand new ferry service across the Gulf of Thailand from Sattahip to Prachuap Kirikhan (Hua Hin) to Songkhla was test run last year. However, this is still not a permanent service and was not designed to be a replacement.
The ferry service was at Pattaya Port C at the Bali Hai Pier. The service was operated by Royal Passenger Liner Co., Ltd. which was the only company for the ferry service at the port.
Their two catamaran ferries carried 150 passengers on one vessel and 262 passengers on another and took only one hour and forty minutes per round to Hua Hin. They had been operating since 2017 but had been plagued with various issues and difficulties, as well as less than expected popularity. The Covid-19 pandemic was the so-called "nail in the coffin" for the ferry service
Today (August 10th) the Pattaya City Mayor Sonthaya Khunploem told Pattaya News reporters, "The company has requested to cancel the contract for using the port as they have had to stop their ferry service due to the Covid -19 crisis with the current restrictions and no domestic or foreign tourists. We also don't know when the situation will improve or when exactly tourists can return."
"They will have to fix some structures at the port to what it originally looked like before their operations. There were some renovations done that the company changed and some structures are not to our standards. Once this is completed, they can finally return the port to Pattaya City properly, where it will likely be operated as a normal boat dock. There are no plans to resume a Hua Hin service at this time from Pattaya." The Mayor concluded.
Source: https://thepattayanews.com/2021/08/10/pattaya-to-hua-hin-ferry-service-officially-ends-this-time-for-seemingly-good-as-contract-canceled-and-port-returned-to-pattaya-city/