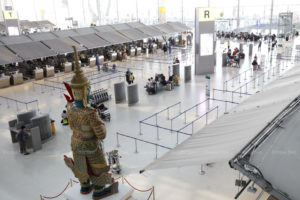 Panel approves upgrading Bangkok's  Suvarnabhumi airport – the construction of three new terminals (East, West, and the North Expansion)
Air industry gears for post-Covid recovery
A panel in charge of upgrading Suvarnabhumi airport has approved a major development scheme worth nearly 60 billion baht to support the post-Covid-19 recovery of air travel demand.
Transport Minister Saksayam Chidchob, the committee's vice chairman, recently said the development project comprises the construction of three new terminals that are tentatively scheduled to be completed by 2024.
The terminals, known as the East Expansion, the West Expansion and the North Expansion, are expected to increase the airport's annual passenger handling capacity by another 60 million.
Before the Covid-19 pandemic, the airport had become overloaded with passenger numbers, exceeding its annual capacity of 45 million. Covid-19 has caused a sharp decline in air traffic.
However, Mr Saksayam said the panel has decided to go ahead with the upgrade project to ensure the airport can cope when air travel demand bounces back after the pandemic.
"We are looking ahead because the country's main source of income is from the travel industry and air passengers account for 80% of tourist arrivals," he said. "Although the pandemic has disrupted air travel, vaccine campaigns are rolling out worldwide and the situation is expected to improve."
The upgrade is also in line with the airport's third runway development project. Once complete, the airport will be able to handle up to 90 flights per hour, as opposed to the current capacity of 68.
The East Expansion and the West Expansion schemes, each covering 66,000 square metres, will accommodate 30 million passengers each annually. Each project cost is estimated to be worth 7.83 billion baht.
The Northern expansion, covering 348,000 square metres, is expected to accommodate 30 million passengers annually. The project cost is estimated at 41.26 billion baht.
Mr Saksayam said the construction of the Satellite 1 passenger terminal is due to be completed next year and is expected to accommodate 15 million passengers annually.
The National and Economic and Social Development Council has initially agreed with the upgrade plan, he said.
The Airports of Thailand will seek opinions from the International Air Transport Association and the International Civil Aviation Organisation before the scheme is submitted to the cabinet for consideration in March.
Source: https://www.bangkokpost.com/business/2051751/panel-approves-airport-expansion