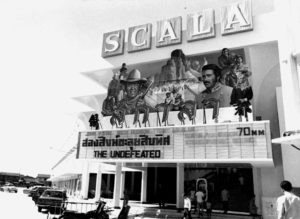 Opinion – Bangkok's Scala theater could have been the heart of Thai cinema for decades
As someone who has grown up around and spent a career making movies, I understand how good cinema can be a catharsis for important conversation, introspection, or snapshot of the current zeitgeist.
Good films, and even the infrastructure that support good films, can serve as time capsules to important periods of history. When we watch Casablanca, not only are we engrossed in the struggles of Ilsa and Rick, but we are also given a glimpse of wartime Europe and all its tribulations.
When you walk through Grauman's Chinese Theater in Los Angeles, you not only anticipate the next movie you're about to see but are able to physically be a part of the history of cinema itself.
By destroying the Scala theater, Thailand loses a bit of that history and a lot of its heritage.
Much was made about Russell Crowe taking in Thailand recently, with public officials going wild over his unexpected social media posts about the kingdom.
What Thai authorities fail to understand is that Crowe was inspired by Thailand not because of its gaudy malls, which Scala is set to become, or its godless modern architecture. He was taken in by the culture, the chaos, the heritage – all embodied by the Scala.
He saw Thailand for what draws interesting and engaged tourists, its heritage and uniqueness.
Just think of what could have happened – Scala and its surrounding building being a incubator of thai thought and vision (think the British Film Institute) – a place all Thais could go to celebrate Thailand's unique cinematic past and also dream up future visions.
Instead, that dream is gone.
Your Prime Minister has called for the growing of Thai soft power. Nowhere is soft power more readily embodied, ready to be nurtured, ready to be expanded than a half century old cinema which could have been transformed to become the beating heart of the Thai creative universe.
And now it's gone.
Nicholas Simon is a producer, filmmaker, and film critic. He runs Indochina Productions.
Source: https://www.thaienquirer.com/34810/opinion-scala-could-have-been-the-heart-of-thai-cinema-for-decades/