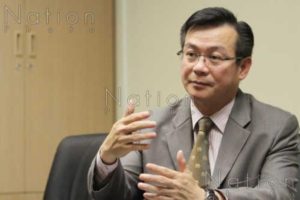 DHIPAYA INSURANCE, Thailand's second-largest general insurance firm, plans to start operating in Cambodia next year.
It will adjust its strategy to fit that market, as selling insurance in Cambodia is more challenging than in Laos, where the company began doing business last year.
Managing director Somporn Suebthawilkul said the company was applying for an insurance licence in Cambodia, where it will collaborate with two other Thai insurance groups, Panichewa Group of Companies and Southeast Insurance Group of Companies, as it did in Laos. However, Dhipaya must have local partners in Cambodia, and it is in talks with them on forming a new company there.
"We hope to begin operating the insurance business in Cambodia next year if we receive the licence in [time]," he said.
Cambodia's insurance market is larger than Laos', and motor insurance and construction all risk (CAR) will be Dhipaya's focus. However, running an insurance business in Cambodia is not easy because there are many players in the market, unlike Laos.
Somporn said Dhipaya was already a recognised insurance brand in Laos in just its second year of operation. He attributed the firm's rapid growth to the fact that its service was different from that of local insurance companies.
"Laos does not have [an insurance-adjuster] system like Thailand does, so when we use that system to service policyholders who are in motor accidents and help them bring their vehicles to the garage, the customers are impressed," he said.
In the first eight months of this year, Dhipaya's Laotian operation earned premium income of Bt83 million, against Bt40 million in the same period in 2015. Motor insurance accounts for half of its premiums and the other half is from CAR insurance.
Somporn admitted, however, that its eight-month income was lower than target, because it has targeted total premium income for this year at Bt150 million. Therefore, it has to ramp up its motor-insurance sales during the rest of this year, concentrating on certain locations. Vientiane, Luang Prabang and Savannakhet are its focus.
He said the company was interested in doing business in Myanmar but not until it is well established in Cambodia. He noted that Myanmar has not granted licences to foreign insurers, so the way to access that market would be to acquire an existing local company.
As for the Thailand market, Somporn said gross premium income this year would be lower than last year's Bt23 billion because of a dearth of big construction projects.
"We have to focus more on retail consumers through motor insurance in the rest of this year to offset the decline in premium income from construction projects," he said.
Retail customers now account for 55 per cent of the firm's premium income, up from 30 per cent a few years ago, and Somporn said the retail proportion should be 60 per cent next year.
The company is able to take on the risk itself for the retail sector, unlike commercial customers, for which it has to use reinsurance firms.
Source: http://www.nationmultimedia.com/business/Now-Dhipaya-eyes-insurance-expansion-into-Cambodia-30297258.html