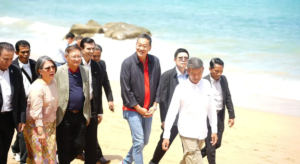 New Thai PM Srettha Confirms Planned Phang Nga Airport Would Be For Large Aircraft
PRIME MINISTER Srettha Thavisin said during a visit to Phang Nga that the planned construction of an airport in this province right next to Phuket would be big enough to accommodate large aircraft as requested by provincial entrepreneurs, Matichon newspaper said.
These entrepreneurs also asked for a better quality public transport system for tourists as this would increase income in both this and nearby provinces as well as the holding of activities to boost tourism during low season.
Srettha, who was accompanied by Dr. Prommin Lertsuridej, head of Pheu Thai Party's policy working group, the party's MP Ms. Sudawan Wangsupakijkosol, Mr. Prompong Nopparit, a former party spokesman and Mr. Krit Seefah, the party's candidate who ran in the general election here, was welcomed by Phang Nga Governor Mr. Ekarat Leesen.
Srettha said he was surprised that no prime minister had visited Phang Nga in 10 years and while his party does not have an MP from this province, both Prompong and Krit were nevertheless working tirelessly for the people.
He mentioned that the Thai economy has slowed down quite a lot which makes boosting revenue vital and a key sector is tourism.
"We listened to the construction of a new airport and please be confident that large aircraft will be able to land at this new airport.
"Regarding various projects talked about, even though looking at each of them they may appear slow to break even but looking at overall return they should be worth it," he said.
He added that he would not just focus on individual projects but the big picture with focus not just being Phuket and Phang Nga but also Ranong. Moreover the environment would be maintained in tandem with economic growth.
While medical tourism is important, should facilities be opened in several provinces at the same time it will lead to a shortage of staff, he pointed out.
Regarding the request for electric buses, Srettha said provincial authorities could forward this request right away.
Reporters mentioned that requests made by Phuket and Phang Nga entrepreneurs were very similar with both parties having requested development of infrastructure, the former requesting the expansion of Phuket airport while the latter asking for a new airport to be quickly built, with this being the case would a new airport really be built in Phang Nga.
Srettha replied that this is something important for the Pheu Thai Party to push through.
Asked whether in the short term the old airport at Phuket would be expanded or construction of a new one started, Srettha replied that he would have to listen to various opinions but if this project is to be implemented it should be really good.
He added that there is already a plan and schedule to construct the new airport.
According to Wikipedia, Phang Nga Airport (or the second Phuket airport) is planned for construction in Khok Kloi subdistrict, Takua Thung district, Phang-nga province by the state-owned Airports of Thailand (AOT) company. The project was conceived to alleviate congestion at Phuket Airport, and was first announced in 2018. It was expected to open in 2031, but was put on hold in 2022.
Source: https://thainewsroom.com/2023/08/26/srettha-confirms-planned-phang-nga-airport-would-be-for-large-aircraft/