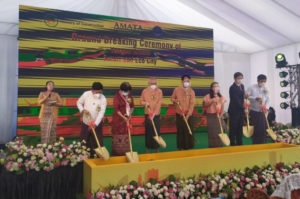 Myanmar's Yangon Amata Smart & Eco-City project kicked off on 27 December 2020
The groundbreaking ceremony marked yesterday (27.12.2020) Thailand-backed Yangon Amata Smart and Eco City project on 2,000 acres of land near Dagon Myothit (East) and (South) townships.
The project is jointly developed by the Department of Urban and Housing Development Department under the Ministry of Construction and Thailand-based Amata Corporation PCL, under the Yangon Region government's guidance.
"The project is located on the economic corridor of Thilawa Special Economic Zone and Hantharwady Airport. It will become an important hub in the city. The project will bring benefits and spur technological development to the urban areas. I believe we might see technology transfer through foreign direct investments", stated Yangon Region Chief Minister U Phyo Min Thein in his opening remark at the event.
Regional Chief Minister U Phyo Min Thein, regional Hluttaw speaker U Tin Maung Tun, regional minister Daw Nilar Kyaw for Electricity, Industry, Transport and Communications, Thailand's Ambassador Mrs Suphatra Srimaitreephithak to Myanmar, Director-General U Thant Sin Lwin of Myanmar Investment Commission, Director-General U Min Htein of the Department of Urban and Housing Development Department, Chairman Mr Arsa Sarasin of Yangon Amata Smart and Eco City and officials concerned inaugurated the event.
"This project demonstrates the strengthened relationships and friendship between Myanmar and Thailand. I believe this project will help enhance the socio-economy of the urban people and create jobs for them," said Thailand's ambassador to Myanmar in her delivering speech.
Amata, the leading industrial city developer, will start implementing the first phase of Yangon Amata Smart and Eco City project under Amata Asia (Myanmar) Limited, with a capital of US$1 billion.
The first phase of the project will start on 200 acres. The project aims to create an essential hub in the region, bringing all together and providing jobs, vocational schools, healthcare service, trade and recreation places in one place. Amata pursued industrial development in harmony with local communities and the natural environment. It will provide employment in an eco-friendly environment and contribute to the sustainable growth of the country.
The project will support all necessary infrastructures, utilities, logistics and services, industrial waste management activities and other necessary businesses and attract quality investors, Amata stated.
The project intends to attract $3.7 billion from the tenant companies in the zone. The businesses in the zone are forecast to estimate at $3 billion in annual production capacity when the zone is fully operational.
The project will employ more than 33,000 residents. Furthermore, it is expected to generate revenue of $60 million from income tax yearly.
The whole smart and eco-city project is slated to complete within five years. The first phase of the project will start in the first three months of 2021, and it will be operational in 2021-end. — Myint Maung Kyaw (Translated by Ei Myat Mon)
Source: https://www.gnlm.com.mm/yangon-amata-smart-eco-city-project-kicks-off-on-27-december/