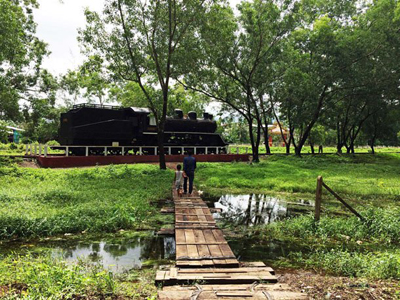 The Death Railway Museum, which was built at the site of the Death Railway of the World War II in Myanmar's Mon state and opened on Monday, the country's Independence Day, will play a role in educating people about the tragedy during the War. The museum on a 1.62 hectares of land plot showcases the miserable life of the prisoners of war who died during the construction of the Death Railway.
The Death Railway, located in Thanbyuzayat in Mon state, was built by the Japanese invasion army in 1943 to support the Japanese war effort by connecting Yangon (then called Rangoon) to Bangkok.
Its construction was notorious for its reliance on the forced labor from the civilian community in Thailand and Myanmar and allied war prisoners.
Thanbyuzayat graveyard is a place where several thousands of victims of the Death Railway were buried.
During the World War II, the Japanese invasion army forced more than 120,000 prisoners of war from alien countries and other Southeast Asian nations to build the 280-kilometer Death Railway linking Thanbyuzayat in Myanmar and Kanchananburi in Thailand.
More than 16,000 prisoners of war died during the construction of the Death Railway, or about 38 prisoners of war for every kilometer of the track.
With little or no medical care, the prisoners of war succumbed to sickness, mal-nutrition and exhaustion at last.
Mikio Kinoshita, a 95-year-old Japanese war veteran who was 24 years old when he was on duty at the railway construction site during the World War II, attended the museum opening ceremony along with his family.
He recalled that he was a railway engineer and controlled 100 Australians and 200 Myanmar prisoners of war at the site of the Death Railway.
He expressed delight over the opening of the museum to commemorate the suffering and loss of lives caused by the past tragic event.
The museum highlights a coal-fired C-0522 engine, which was used in the Death Railway and the memorial place where the Death Railway line originated.
The museum, which began construction in April last year displays historical photos, sculptures and 3D images of the daily life of the prisoners of war connected with the Death Railway.
Recalling the tragedy and taking lessons from it, Chief Minister of Mon state U Ohn Myint wished for a long-lasting friendship between Myanmar and Japan and peaceful development for Myanmar.
Source: http://news.xinhuanet.com/english/2016-01/05/c_134978808.htm