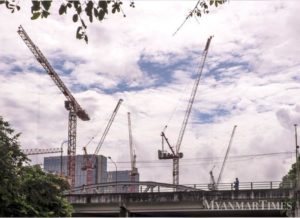 Myanmar to use US$1 billion loan for infrastructure projects
09 September 2019
Economic development, agriculture, electricity, and infrastructure projects will be the focus of a framework for loans between South Korea and Myanmar.
On September 3, Union Minister for Investment and Foreign Economic Relations U Thaung Tun and South Korea's Minister for Foreign Affairs Ms Kang Kyung-wha signed the framework agreement under which South Korea will provide US$1 billion to Myanmar for an economic development cooperation fund (EDCF) during a visit by South Korean President Moon Jae to Myanmar.
According to the Ministry of Investment and Foreign Economic Relations, nine projects are included under the loan framework. The Ministry of Agriculture, Livestock, and Irrigation is expected to receive US$57 million for upgrading state agricultural institutes conducting vocational and educational  programmes, upgrading agricultural cooperative societies, promoting income generation for rural cooperatives members, and the Ayeyarwaddy Delta Area Development Programme.
The Ministry of Transport and Communication (MOTC) is expected to receive US$93 million for an e-government integrated data center project, US$45 million for a railway modernisation project, and US$700 million for the Mandalay – Myitkyina rail line project.
The Ministry of Electricity and Energy will receive US$50 million for transmission line and substations projects, and US$79 million for improvement of transmission efficiency work.
The Ministry of Construction will receive US$60 million for power, water, and road infrastructure projects for the  Korea – Myanmar Industrial Complex, an additional US$20 million for Myanmar – Korea Friendship Dala Bridge, and US$79 million for the Watayar Bridge construction project.
State Counsellor Daw Aung San Suu Kyi and South Korea President Moon Jae-in met and discussed the promotion of friendly relations between the two countries, cooperation in the sectors of culture, education, trade, investment, infrastructure, energy, currency and finance, further assistance in Myanmar's agricultural sector, establishment of an information centre to facilitate South Korea's investments in Myanmar, and promotion of tourism.
President Moon Jae-in also said the talks also included future support for infrastructural development in Myanmar, trade promotion between the two countries and encouraging South Korean businesses to invest in the Korea-Myanmar Industrial Complex.
Besides the signing of the agreement for the loan framework, memorandums of undersstanding were also signed for cooperation in economic development, the establishment of information centre in Yangon to facilitate South Korean investment in Myanmar, cooperation in trade and industry, cooperation in shipping, upgrading shipyards, transport and construction, and management of docks, cooperation in science and technology, cooperation in emerging businesses and innovation.
Source: https://www.mmtimes.com/news/myanmar-use-us1-billion-loan-infrastructure-projects.html