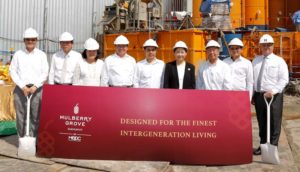 Mulberry Grove Sukhumvit celebrates start of piling works for Bangkok's super-luxury "Intergeneration" residences
Mulberry Grove Sukhumvit is a super-luxury "intergeneration" residence to serve families of several generations. Careful design gathers all ages of the family to enjoy time together. Each detail of the condominiums and building facilities is designed and developed to meet the needs of all generations of the family. Beautiful, timeless interiors combine with holistic wellness facilities, innovative technology, and meticulous services to suit residents of all ages and provide outstanding intergeneration living.
The project, on Sukhumvit Road, is at the heart of one of Bangkok's top business districts close to amenities to meet every need. The neighbourhood offers leading international schools, business districts, shopping centres, entertainment venues and top hospitals. The location is also convenient for transport, at only 250 metres from Ekkamai BTS station and near the expressway, providing suitable transport for all ages. With a project value of THB 6 billion, the 37-story condominium occupies 2.5 rai and has 100% parking for its residences. The 287 residence, starting at THB 9.9 million, consist of 1-bedroom units of 47-56.5 sq.m., 2-bedroom units of 87-114 sq.m. and penthouses.
Facilities and common spaces serve all generations under the key concept of "Designed for the Finest Intergeneration Living". The Mulberry Intergeneration Facility has a generous area of 1.9 rai for common space, along with almost 1 rai of green space.
Source: https://www.bangkokpost.com/thailand/pr/2040127/mulberry-grove-celebrates-start-of-piling-for-super-luxury-intergeneration-residences