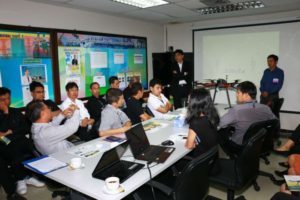 MMC Announces Successful Demo of Drone Stringing Power Line on Thailand's Ragged Mountain
On 15th Mar., 2017, top industrial drone manufacturer MMC had power line stringing project for EGAT (Electricity Generating Authority of Thailand) in Thailand.
That's another successful transnational demonstration for MMC since power line stringing project in Bhutan, India, Kalimantan and Surabaya using the Spider solution.
In recent years, the Thai government has increased the investment in the development of power projects to meet the requirement of its rapid economic growth. Traditional method of power line stringing based on human labor misfits the green-economy and humanism wasting time, human resource and always sacrificing the environment. EGAT is Thailand's leading state-owned power utility under the Ministry of Energy, responsible for electric power generation and transmission for the whole country as well as bulk electric energy sales. MMC's drone solution of Spider has established a good reputation in the drone market by its one-stop service, which is exactly what the electricity construction requires. By Cooperating with MMC, EGAT is trying to use professional drones to string more lines helps the nation in its quest for 100 percent electrification.
In 14th March, MMC has a meeting with 40 demo participants from Thailand, Indonesia and Vietnam including managers of EGAT, project manager of CHC Engineering Co.Ltd. And Supa Waisayarat, general manager of Earth Water Wind Fire Engineering Co.,ltd. and etc. The focus of the seminar is to introduce the drone for power line stringing and the detailed process of the power line stringing. The payload and the efficiency of the Spider drone are no doubt main issues of everyone's concern.
In 15th March, the power line stringing project started in a mountainous outskirt in Saraburi with peaks and valleys. The distance between two towers is 450 meters and there is a valley in between which produces wind. With Scale 5 wind resistance, the Spider drone overcame the wind and flied over lush trees avoiding the problem of being intertwined by branches or hanged by human. MMC ground station helps a lot to do the data and image transmission. It cost only 20 minutes to complete the project while preventing deforestation and manpower consumption.
" I have never imagined the drone can substitute manpower to complete such a difficult project I think we find a trustworthy partner now for the power transmission construction." Mr.Praphan Ooraikul, manager of CHC Engineering Co., Ltd said.
MMC's drone technology brings real benefit to the developing countries in terms of electrification. Its successful power line stringing demo deepens people's recognition of the new technology – drone for power line stringing.
MMC's Spider is a complete set of drone solution of power line stringing covering professional drone for power line stringing, schemes and pilots team to help finish stringing project without deforestation, damage to farmland and environment.
With the drone solution of Spider, MMC has accumulated rich experience of power line stringing project. In 2016, MMC helped KEC International Ltd to complete power line stringing project in Bhutan of high altitude after proposing scheme towards the topography of steep and high mountains crisscrossed by a network of swift rivers, which form deep valleys. Well at the same year, MMC built long-term cooperation relationship with PLN, the Indonesian State Electricity Company, MMC provides drones and training for PLN's development team. Moreover, Spider drone flied over 70KV active power line and complete power transmission in Jombang, Surabaya.
To learn more about the Spider solution for power line stringing, please visit: http://www.mmcuav.com/drones/spider-solution-of-power-line-stringing/
Source: https://www.suasnews.com/2017/03/mmc-announces-successful-demo-drone-stringing-power-line-thailands-ragged-mountain/