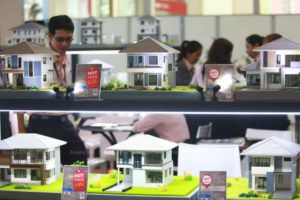 Measures sought to stimulate Thai residential demand
The next government should revise loan-to-value (LTV) limits, reduce the minimum land size for low-rise houses and extend the leasehold period to stimulate residential demand amid unfavourable conditions, according to property associations.
Meesak Chunharuckchot, president of the Thai Real Estate Association, said the easing of LTV limits should be extended to those borrowing for more than two years as it would help boost both the new and second-hand home market.
"Borrowers who have been making payments on a home loan for over two years are generally considered to be reliable borrowers," he said. "They should get a 100% loan-to-value if they want to buy a second home as their income rises," Mr Meesak said yesterday at the Property Focus 2023 seminar.
Peerapong Jaroon-ek, president of the Thai Condominium Association, said employment would significantly affect purchasing power while any impact from rising interest rates would be minimal as banks' campaigns would help in the first year.
As development costs keep rising, he suggested the next government reduce the minimum land plot size required for the construction of low-rise houses by 20%, making it more affordable for potential homebuyers to purchase a unit.
The minimum land plot required for a townhouse should be reduced to 14 square wah from 16 sq w, the plot required for a duplex house should be reduced to 28 from 35 sq w, while for a single detached house it should be cut to 40 from 50 sq w, said Mr Peerapong.
"A 20% decrease can cut home prices by almost 1 million baht or to 3, 5 and 7 million baht a unit for a townhouse, a duplex house and a single detached house, respectively, from 4, 6 and 8 million baht a unit," he said.
To stimulate foreigners buying property in Thailand, Wasan Kiangsiri, president of the Housing Business Association, suggested an extension to the leasehold period.
"It should be 50 years to prompt demand and minimise concerns among locals," he said. "There is already an act on a 50-year leasehold for commercial and industrial use. It's easy [for the government] to add the residential type to it," he said.
Mr Wasan suggested the land and building tax be reduced by 50% this year, a 25% reduction next year before returning to the normal rate in 2025 due to lower than expected economic growth.
"When the land and building tax returned to the normal rate last year, many property owners didn't pay it," he said. "As the new appraisal prices have increased this year, the tax burden on property owners will be higher.
Finance Minister Arkhom Termpittayapaisith said the government push for megaproject development, ranging from the city mass transit system and the double track system to the Eastern Economic Corridor, would contribute to the recovery of the property sector.
Source: https://www.bangkokpost.com/property/2524459/measures-sought-to-stimulate-market