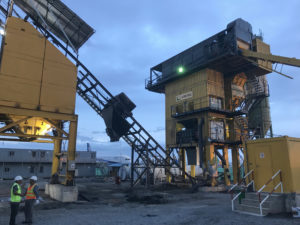 Lintec asphalt plant paves the way for better runways at Cambodia airports
In more normal times, thousands of flights pass through Cambodia's airports every day. Helping make this happen for one of South East Asia's fastest growing economies is a Lintec CSD 2500B Containerized Asphalt Plant. This model has been hard at work on airport projects as the country looks to develop its reputation as a logistics hub for the region.
Since 2018, the plant has been producing a steady supply of hot mix asphalt for construction and maintenance work. Most recently, the plant completed a runway extension and rehabilitation project at Sihanouk International Airport, including the renovation of a 2.5 km existing runway and construction of an 800 m extension. Prior to this, it was employed on projects at Phnom Penh International Airport.
Lee Yen Meng, CEO of Lintec & Linnhoff Asphalt Pte. Ltd., said: "With planes constantly taking off and landing, a key challenge on runway projects is only having a few hours each day when asphalt works can take place. This means the hot mix asphalt has to be produced efficiently and quickly, with limited room for error. The precision and reliability of the CSD 2500B make it a perfect choice, helping projects stay on schedule."
The Lintec CSD 2500B has a maximum production capacity of 160 t/h with a 2.5 t mixer. With its unique double screen drum technology, there is no need for a hot elevator or vibrating screens in the Lintec design, making for easier maintenance, lower power consumption and better environmental performance. Its modular construction, meanwhile, makes for easy and quick installation which is a useful feature for customers, such as this Cambodian contractor that needs to move the plant from project to project.
The enclosed structure gives the plant a smart appearance, while its reduced noise and dust levels mean disruption to the local community is kept to a minimum. Each Lintec unit undergoes a rigorous testing routine prior to shipping, while a host of customization options means users can specify a design that meets their exact needs.
Thanks to the efficient and productive performance of the Lintec CSD 2500B at Sihanouk International Airport, the location can now accommodate larger (Code E) aircraft, such as the Boeing 787 Dreamliner or the Airbus A350-1000. In 2019 the airport welcomed 1.6 million passengers and over 17,000 flights.
To learn more about Lintec Containerized Asphalt Plants, visit: https://lintec-linnhoff.com/product_category/asphalt-mixing-plant/.
About Lintec & Linnhoff
Lintec & Linnhoff is a global manufacturer and distributor of leading-edge solutions for the concrete and asphalt industries. Its products include asphalt batching plants, concrete batching plants, pavement related technologies and machinery, and specialist concrete cooling solutions. All its machines are engineered to the highest levels and exceed global standards for environmental impact, recyclability and reusability.
Lintec & Linnhoff combines the craftsmanship, precision and engineering expertise of its German heritage with the exacting standards required to serve the varied needs of the global construction market. It provides purpose-built solutions to customers that are supported through its team of global experts and distribution partners.
Lintec & Linnhoff machinery has helped deliver some of the world's most prominent construction achievements, including: the Hong Kong-Zhuhai-Macau bridge; Abu Dhabi's Yas Marina Circuit; The Palm Island, Dubai; and the Storebaelt Bridge Denmark.