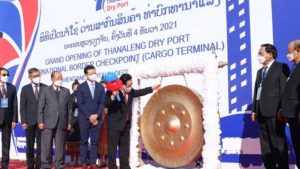 Laos opens long-anticipated Thanaleng Dry Port (TDP) and Vientiane Logistics Park (VLP) in 'land-link' drive
The grand opening of Laos' long-anticipated Thanaleng Dry Port (TDP) and Vientiane Logistics Park (VLP) took place on 04 December 2021, marking the start of streamlined services to facilitate and cut the cost of transport and related expenditure.
Prime Minister Phankham Viphavanh was invited to pull a lever to officially launch the megaproject in Dongphosy village, Hadxaifong district, Vientiane.
On the occasion, the premier also struck a gong nine times, to symbolise good wishes for the success of the landmark project.
Soon afterwards, the prime minister cut a ribbon to send off trucks loaded with freight to destinations in Cambodia, Thailand and Vietnam.
Built on 382ha of land, the $727 million TDP and VLP will offer comprehensive facilities relating to freight transport and cross-border transport logistics. The project, which comes with a 50-year concession period, is being developed in full by the Lao-owned Vientiane Logistics Park Co Ltd.
Construction of the dry port and logistics hub began in December 2020 with the project expected to be fully complete in the next two years.
Addressing the grand opening ceremony, Vientiane Logistics Park Co Ltd chairman Chanthone Sitthixay, told the guests that the TDP and VLP facilities are part of efforts by the Lao People's Revolutionary Party (LPRP) and government to transform Laos from being landlocked into a provider of 'Land Link Transit Transport Services' for the region and the world.
"When the TDP and the VLP are fully operational, they will have important outcomes for the economy, the general public and the people of Laos," Chanthone told guests.
Attending the ceremony were senior government officials, company executives and staff, and invited guests.
A number of benefits for Laos are envisaged when the two facilities are fully up and running.
These include mega-scale standardised infrastructure that delivers 'Land Link Transit Transport Services' for the region and world; a new and sustainable source of revenue that is "assured transparent"; and a cut in transport costs of at least 50 per cent.
Chanthone voiced gratitude to the LPRP and state leadership for extending support for the project, which he said had made it possible.
Located in a prime location next to the Laos-Thailand railway station and the Laos-Thailand Mekong Friendship Bridge 1, the dry port acts as a border checkpoint for freight, similar to a seaport- or airport-based transit area or international arrival zone, where procedures are streamlined to enable the smooth flow of trucks and freight.
Set to link with the Laos-China railway, which came into operation on December 3, the dry port will eventually link to global transport systems via rail to European markets.
Shipment of goods from Southeast Asia to Europe by rail will take just over 10 days. This is much shorter than transport by sea, which takes about 45 days.
The dry port will also link with a planned railway connecting Vientiane with the Vung Ang seaport in Vietnam's central Ha Tinh province. Through this route, containers could reach countries and regions such as southern China, Japan, South Korea, Russia, the Philippines and Indonesia.
Addressing the grand opening, Minister of Public Works and Transport Viengsavath Siphandone said the TDP, VLP and their modern service systems will significantly cut the cost of logistics.
This reduced cost, the minister added, would increase Laos' trade competitiveness and boost investment. "This will be a significant contribution to driving economic growth," he said.
Viengsavath pledged that the government and his ministry would continue to further support and facilitate the project. Developed solely by the Lao investor, the project comprises five zones offering various business incentives and opportunities for investors including tax breaks.
The first of the five zones, the TDP acts as the centre of international import and export trade with all categories of customs operations. Importantly, quality equipment, vehicles and warehouse systems are to be "professionally" installed to enable the processing of larger numbers of containers. Use of the Terminal Operation System (TOS) aims to guarantee the best service in terms of speed, security and reliability.
Second, a Tank Farm will store liquid bulk cargoes for importing and storing fuel from Thailand and will serve as a fuel distribution centre for Laos. Diesel and petroleum products will arrive at the tank from a dedicated rail yard and pipeline in the future.
Third, a Logistics Park will provide as its main service a warehousing and distribution centre which offers goods storage, consolidation, distribution, inventory management, and warehouse management.
Fourth, a Free Trade Zone will house as its main business facilities the Halal Hub and Agriculture Production Park, Technology Park, Office Zone, SME Building Area, Commercial Zone and Landmark (VLP Co Ltd office).
Lastly, an Export Processing Zone – as a new, modern destination and reportedly the "most dynamic of its kind" in the region – is to offer a more competitive business environment and gear up to become a manufacturing export hub for the ASEAN and global consumer market.
VIENTIANE TIMES/ASIA NEWS NETWORK
Source: https://www.phnompenhpost.com/business/laos-opens-logistics-megaproject-land-link-drive