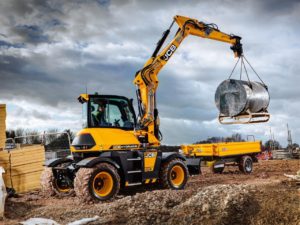 JCB Hydradig is a totally new tool-carrying solution, bringing new levels of innovation and engineering excellence to the growing compact wheeled machine sector of the market .The revolutionary machine delivers on five important customer criteria, offering unparalleled visibility, stability, manoeuvrability, mobility and serviceability. Hydradig is a ground-breaking digging, lifting, loading and tool-carrying machine for urban construction, highway maintenance and municipal operations.
It delivers a number of 'firsts' in five key areas:
Visibility – an unmatched operator view around the machine
Stability – a low centre of gravity to allow stable lifting and excellent travel speeds
Mobility – achievable 40km/h travel between job sites
Manoeuvrability – all-wheel steer delivers maximum urban usability
Serviceability – ground level access to all maintenance points
Hydradig Performance
The JCB Hydradig has a sturdy all-wheel drive, four-wheel steer chassis, based on JCB's proven Loadall telescopic handler concept. This delivers three-mode steering for maximum manoeuvrability and stability when travelling at speed. Power comes from JCB's proven Ecomax Stage IIIB/Tier 4 Interim diesel engines, delivering 81kW (108hp) and industry-leading levels of low rpm torque. The engine achieves the Tier 4 Interim emission levels without an expensive Diesel Particulate Filter (DPF), reducing cost and complexity for the customer.
The engine is side-mounted, placing the centre of gravity up to 1.5m below that of some competitive 10-tonne machines, with hydrostatic drive provided through a combination of a variable piston pump and a variable piston drive motor, to a central transfer box and then to both axles. This driveline layout offers a step-less 0-40km/h speed range, with no requirement for multiple gears or a break in tractive effort as speeds increase or decrease. A 20km/h maximum speed model is also available to suit local markets.
Near 50-50 weight distribution between the axles and a longer wheelbase than competitive 10-tonne machines delivers improved stability, increasing confidence for the operator. A 2,650mm wheelbase provides a superior ride with secure handling. The lack of forward and back 'nodding' when driving means that Hydradig operators can maintain higher travel speeds between job sites, improving productivity, with JCB's SRS boom suspension system available as an option to further improve ride comfort.
The machine is equipped with three steering modes as standard. Two-wheel steering for security at road speeds, four-wheel and crab steering, providing maximum manoeuvrability on site. A front axle with +/- 8° of oscillation delivers excellent rough terrain traction and stability. An optional reverse steering button on the main console allows the operator to use all three steering modes while the cab is facing in either direction. Hydradig offers an incredibly tight turning circle of just 3,946mm on single tyres, rising to 4,511mm when equipped with a front-mounted dozer blade.
The machine can be ordered with single tyres, extra-wide flotation tyres or twin tyres on each axle. Customers can also choose between any combination of dozer blades and stabiliser legs at either end of the machine, providing a modular design that can be tailored to an individual operation. Both parallel lift and radial lift dozers are available. Hydradig can also be supplied with a choice of towing hitches, connected to the chassis or through the dozer blade. Capable of pulling up to 3.5 tonnes, the hitch comes complete with 12V electrics.
JCB will offer a dedicated Hydradig trailer as an option, allowing a single machine to travel to site with a range of attachments. The machine's reduced tailswing allows it to rotate and change attachments within a single road carriageway.
With the engine, driveline, hydraulic and diesel tanks mounted on the lower chassis, the upper structure has a reduced tailswing of just 120mm, 29% less than any competitive machine, allowing the machine to work on the most confined construction site or within a single motorway carriageway. The lower centre of gravity also makes the Hydradig incredibly stable during lifting operations particularly over the tyres, even without stabilisers or dozer blade. The reduced tailswing JCB Hydradig can lift more than competitive conventional tailswing machines.
Bosch Rexroth electro-hydraulic controls allow the main valve block to be mounted beneath the side canopy and directly above the slew ring, so there is no hydraulic noise inside the cab. The closed loop hydrostatic transmission, with separate pumps for traction drive and boom power, make it easy to multi-function the dig-end.
Customers can choose between a monoboom or a triple-articulating TAB boom, with three dipper lengths of 1,650mm, 2,000mm and 2,250mm to suit a range of applications. Over the side stability, when running tyres alone, is 3% better than any competitive machine. All dig-end pins are equipped with impregnated bushes, allowing 500-hour greasing intervals. The dipper nose geometry matches that of JCB's 3CX backhoe loaders and the firm's larger midi excavator models, permitting the use of a host of buckets and powered attachments.
Hydradig can be used with a variety of tilt-rotator models and can be equipped with mechanical and hydraulic quickhitches from the factory. A high flow auxiliary circuit is standard and the machine can be equipped with two low flow circuits, plus dedicated hydraulic circuits for quickhitch operation. Fully guarded hose burst check valves are available on the boom, dipper and bucket rams, for optimum lifting safety.
A hand-held tool circuit is available as an option, allowing operatives to work with a wide range of powered hand tools, including breakers, road saws and pumps, utilising the hydraulic power from the Hydradig. The JCB Hydradig is an extremely versatile tool carrier and can be used with a range of around 50 JCB attachments – making it an ideal choice for a vast array of applications.
Cab With A View
The Hydradig's ROPS/TOPS certified cab has been purpose designed and built for the machine. Constructed using the Command Plus design DNA first seen on the company's larger wheeled loading shovels, the Hydradig cab has a huge amount of internal space. All-round 360° visibility is exceptional, delivering a real first for operators in terms of site safety and ease of use. The operator can see within 1m of the machine's footprint at ground level from within the cab.
When equipped with the purpose-built trailer, the operator can even see the trailer hitch from within the cab, without having to slew the machine. Likewise the stabilisers and dozer blade, where supplied, can be clearly monitored from the operator's seat.
With the engine mounted in the lower chassis, and no hydraulic operation within the cab, the internal noise level is an automotive 69dB(A), reducing operator fatigue and making the Hydradig an incredibly relaxing place to spend the day. A choice of mechanical suspension seat and optional heated air suspension seats further improve the operator environment, while independent arm rests make it easy for all operators to find a comfortable driving position.
The machine benefits from JCB's latest in-cab 7" full colour monitor, managed through a rotary controller. This configurable system allows the operator to set working modes and auxiliary hydraulic flows and pressures for both JCB attachments and other makes of work tool. Operators and managers can also programme engine auto idle timing, from 2-30 seconds, to maximise fuel efficiency.
All daily service checks and regular maintenance can be carried out from ground level, with a lift-up engine canopy providing excellent access to the engine and filters. The JCB Hydradig offers the best SAE service rating in its class (33% better than its closest competitor) and there is no requirement for operators to climb on the upper structure for regular maintenance. Hydradig will be supplied as standard with a five-year LiveLink telematic contract, delivering improved uptime and allowing fleet managers to maximise utilitsation of the machine. LiveLink also delivers improved security, with the opportunity to geofence operation and to pair the machine's ECU with the LiveLink system to prevent unauthorised engine starting.
About JCB
JCB is the world's third largest manufacturer of construction equipment. The company has more than 12,500 employees and 22 factories around the world, including 11 in the UK and others in India, China, Brazil and North America. The company makes more than 300 different machines including backhoe loaders, tracked and wheeled excavators, mini and midi excavators, Loadall telescopic handlers, wheeled loading shovels and compaction equipment. www.jcb-singapore.sg/
Media Contact
Mulberry Marketing Communications
Hazel Woon | hwoon@mulberrymc.com
+44 207 928 7676