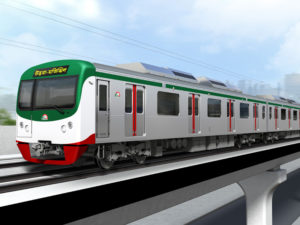 Ital-Thai's 24 Thai engineers to be brought back to Bangladesh by charter flight for Dhaka Metro Rail Project
The metro rail authority has taken a number of initiatives to bring back foreign engineers and consultants to speed up the construction work of country's first metro rail project amid the Covid-19 pandemic.
One of the initiatives is to bring back 24 Thai engineers in a charter flight, as regular flights between Bangladesh and Thailand has remained suspended, officials said.
Besides, Dhaka Mass Transit Company Ltd (DMTCL), which is implementing the project, also wrote to the Foreign Ministry to give special waiver for Japanese nationals involved in metro project so that they can return to Bangladesh, they said.
The development came as the authorities are trying to accelerate the construction work, which remained halted for more than two months after the government declared a national holiday in late March to contain spread of Covid-19 in the country.
The project — formally known as Mass Rapid Transit-6 or MRT-6 — is being implemented to build an elevated mail line from capital's Uttara Third Phase to Motijheel at the cost of Tk 20,000 crore. But the fast-track project witnessed only two percent progress in the last three months, with a total of 46.13 percent progress till June, according to project documents.
At the latest meeting of Fast Track Project Monitoring Taskforce last month, Prime Minister's Principal Secretary Ahmad Kaikaus, also the head of the taskforce, asked metro rail authorities to take initiatives to bring back foreign engineers and consultants to expedite project work.
"We are now trying to accelerate the works and have taken many initiatives," MAN Siddque, managing director of DMTCL told The Daily Star yesterday.
He said physical work at depot is being carried out under package-2 of MRT-6 project, that has seen 70 percent progress. "Now we need the 24 Thai engineers who were previously involved in the package," he said.
The engineers would be brought by air charter of a contractor firm — Italian-Thailand Development Public Company Ltd, he said.
"We have written a letter to the foreign ministry via our ministry [road transport and bridges] to allow the special flights. We hope that we will get the permission and bring them back within a week," he added.
Besides, MAN Siddque said they have written another letter on Monday to the foreign ministry to give special waiver to Japanese nationals involved in the project to return to Bangladesh.
Most of the contractors and consultants of the project are from Japan and regular flights to and from Japan are also suspended since mid-March, DMTCL sources said.
Japan government issued an embargo on its citizens to go and come from Japan and the embargo has not been lifted yet, they said.
"So, it would be difficult to bring Japanese consultants and engineers back," a DMTCL official said wishing not to be named.
The original implementation period of the project was 2012-2024. Following the prime minister's directive, the deadline was first set for December this year and then extended to December 2021.
Source: https://www.thedailystar.net/city/news/metro-rail-project-24-thai-engineers-be-brought-charter-flight-1930485