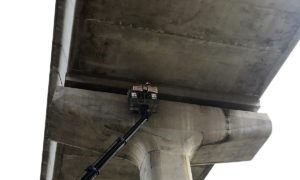 Investor blames Vietnam's HCMC metro beam faults on construction errors
Temperature difference, construction errors, and the low quality of beam support pads had caused the faults detected along Ho Chi Minh City's metro line No. 1.
In March, the metro line's investor, the HCMC Management Authority for Urban Railways (MAUR), had sent an independent consultant to investigate the incident of pads falling from their position on the line.
In a preliminary conclusion submitted to the city administration recently, MAUR said the pad incidents had been caused by the temperature difference between the girder and the track, with errors in construction having led to unsatisfactory friction between the contact surface of the pad and pier, and the low quality of the pads.
The conclusions were made based on the results of periodic monitoring, reports from project contractors and the independent consultant, it said.
Last October, one of the Elastomeric Laminated Bearings pads had fallen from its position between two beams on the line's elevated section in Thu Duc City.
These pads are made from high purity elastomers that encapsulate layered internal steel reinforcing plates and are designed for use in bridge and building construction for beam support.
The faulty pad was on the elevated section of the line, which runs 19.7 kilometers (12.24 miles) from Ben Thanh Market in District 1 to the Suoi Tien theme park in Thu Duc. The incident was detected after cracks were seen on the elevated section.
Then in January, another pad was found to have deviated from its position on the section as inspectors were looking into the falling of the first.
Later, four more pads along the section were found to have moved from their positions.
The section is constructed by a consortium comprising Vietnam's Civil Engineering Construction Corporation No. 6 (Cienco 6) and Japan's Sumitomo Corporation.
The MAUR said the metro line's consulting unit, NJPT, a consortium led by Japan's Nippon Koei, should fix the errors in construction.
For now, in addition to the six locations where the problem has been fixed, the contractor has installed an anti-movement system on many other beams, ensuring the stability of supporting pads.
The contractor has also installed surveillance cameras to detect abnormal events.
The metro line No.1 project was approved in 2007 but work only began in 2012.
There have been several delays, and the MAUR revealed in September the route would be completed in late 2023 or early 2024 after one final delay due to the Covid-19 pandemic. It would be 91 percent complete by the end of this year, it stressed.
Costing more than VND43.7 trillion ($1.89 billion), the line will have 14 stations, three underground and 11 on the surface, some elevated. For now, it is 88 percent complete.
Source: https://e.vnexpress.net/news/news/investor-blames-hcmc-metro-beam-faults-on-construction-errors-4386468.html