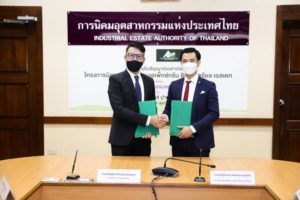 IEAT to build B1.76bn Apex Green Industrial Park in Chachoengsao province, Thailand
Development will serve EEC projects
A new industrial estate is to be built in Chachoengsao with a 1.76-billion-baht budget to serve high-tech industrial development projects in the Eastern Economic Corridor (EEC) area, said the Industrial Estate Authority of Thailand (IEAT).
"We join hands with Apex Industrial Park Co to develop the new industrial estate on 2,191 rai of land," said Attapon Jirawatjanya, IEAT's deputy governor for corporate strategy and development, who recently signed a memorandum of understanding with the company.
The new estate will be called Apex Green Industrial Park.
The two business partners agreed to spend 422 million baht of the investment budget buying a plot of land in Chachoengsao, one of three provinces that form the EEC zone, spanning 30,000 rai.
The other two provinces are Chon Buri and Rayong, which currently serve as Thailand's key industrial areas on the east coast.
According to the IEAT, the biggest portion of the budget worth 1.34 billion baht, or over 88% of the total, will go towards infrastructure development.
The estate consists of 1,600 rai of industrial land for sale and 591 rai of infrastructure, as well as green and buffer zones.
Land development is expected to be completed within two years, with the commercial operation date scheduled for 2023.
Veeris Ammarapala, governor of the IEAT, said earlier that the government expects this new industrial estate to generate around 64 billion baht in investments and economic value, and create 16,000 jobs.
Apex Green Industrial Park is located around 100 kilometres off the Laem Chabang deep-sea port in Chon Buri. It is 120km away from U-tapao airport and 130km from the Map Ta Phut port in Rayong.
The government wants to turn the EEC, now housing 34 industrial estates and 6,033 factories, into Thailand's high-tech industrial hub.
The EEC emphasises 12 targeted S-curve industries: new-generation cars; smart electronics; affluent, medical and wellness tourism; agriculture and biotechnology; food; robotics for industry; logistics and aviation; biofuels and biochemicals; digital; medical services; defence; and education development.
In addition, the IEAT also expects to open Smart Park to serve S-curve industries in 2024, after hiring a firm to supervise the construction of this 12-billion-baht industrial estate.
The government plans to make Smart Park the first high-tech industrial estate in Thailand to serve modern industries.
Smart Park, located on 1,383 rai in Rayong, is expected to help drive the development of high-tech industries, including robotics, medical equipment, aviation and aerospace.
Source: https://www.bangkokpost.com/business/2200763/ieat-to-build-b1-76bn-industrial-estate