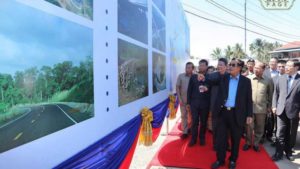 Hun Sen launches $133M road from Pursat to Thailand's Trat province – hopes to open border gate with Thailand
Prime Minister Hun Sen on Monday inaugurated National Road 55 which cost $133 million to build. The 182km road is funded by the Chinese government with contributions from Cambodia to clear mines and unexploded ordnance. He also announced the construction of National Road 10.
National Road 55 links from National Road 5 in Pursat provincial town to the province's Thma Da commune, which borders Thailand's Trat province.
Hun Sen said in future, the government will make efforts to open the Cambodian-Thai frontier through the Thma Da entrance to aid the import and export of goods between the two countries and raise the people's standard of living.
On the same day, Hun Sen also announced the construction of National Road 10. The 199km road would cost more than $188 million and links Battambang province's Samlot district through Pursat province's Veal Veng district to Koh Kong provincial town.
The road will be built from a grant by the Chinese government and contributing funds from Cambodia.
Hun Sen complimented China for helping the Kingdom build roads and bridges in Cambodia, asking: "If China doesn't help us, who would?"
Minister of Public Works and Transport Sun Chanthol said during the inauguration that construction of National Road 55 had taken 38 months from March 2015 to May 2018.
It was difficult to build, he said, as it had to cut through mountain ranges and high slopes. Forty-six slopes were required to be cut and some places had to be dug up to 66.5m.
"This road has beautiful natural views that flank snaky roads up and down the mountains. It is pleasing to the eye and the most interesting one in the Kingdom," he said.
The 9m-wide National Road 10 will be paved with two layers of tarmac and will take 48 months to build – starting from December last year to December 2023.
Chanthol said the government planned to avoid impact on citizens, the environment, and wild animals during construction, which required additional planning.
National Road 10, he said, was difficult to build as a bridge was to be constructed spanning Stung Atai River in Koh Kong province. This bridge would be 512m in length and 72m in height – the highest bridge in Cambodia, he said.
Chinese Ambassador to Cambodia Wang Wentian, who joined the ceremony on Monday complimented the Kingdom and China on their collaboration.
He reiterated China's appreciation for Cambodia and Hun Sen, who visited his country to express solidarity with the Chinese people amid the outbreak of Covid-19.
Source: https://www.phnompenhpost.com/national/hun-sen-launches-133m-road-pursat-thailands-trat-province
Hun Sen wants to open border gate
PHNOM PENH: Prime Minister Hun Sen has urged officials to negotiate with their Thai counterparts to open the border gate in Pursat province's Thma Da commune near the Thai border.
The prime minister said opening the international checkpoint would increase trade and the flow of tourists between the countries.
The Thma Da commune border gate connects with Thailand's Chamrak sub-district in Trat province.
"Opening the gate could help the countries attain their goal of reaching US$15 billion in trade by the end of the year.
"I have discussed the issue with Thai Prime Minister Prayuth Chan O Cha. Now, I suggest that National Defence Minister Tea Banh, Interior Minister Sar Kheng and Foreign Affairs and International Cooperation Minister Prak Sokhon raise the issue of opening the Thma Da checkpoint with Thai authorities.
"Trade with Thailand is growing rapidly. By opening the international border gate, we could boost trade and also help the tourism sector. It would be beneficial for both nations," the prime minister said at the inauguration of National Road No. 55.
According to the Phnom Penh Post, Public Works and Transport Minister Sun Chanthol said at the ceremony that National Road No. 55 will boost cross-border trade, investment and tourism.
National Road No. 55 connects Koh Kong, Battambang and Pursat provinces and goes all the way to Thma Da's border gate.
Cambodian Ambassador to Thailand Ouk Sorphorn told The Post last month he was very optimistic about trade relations with Thailand.
Bilateral trade between the two kingdoms was worth US$9 billion last year — up 7.14 per cent from 2018's US$8.4 billion.
Sophorn said Cambodia mainly exports agricultural products to Thailand, including rice, corn, soybean, cassava, cashew nuts, and mangoes.
Cambodia imports petroleum, cooking oil, machinery, electronic equipment, construction materials, cosmetics and home appliances from Thailand.
Source: https://www.nst.com.my/world/region/2020/03/573639/hun-sen-wants-open-border-gate