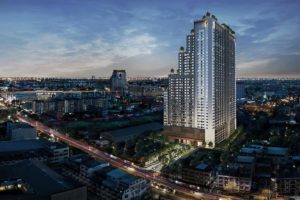 Hong Kong-based developer Risland Thailand pins hopes on property market uptick
At least three new projects worth more than 20 billion baht in the pipeline
Hong Kong-based developer Risland Thailand is confident in a property market recovery next year, putting stock in an economic boost from the government.
As the company has at least three new projects worth more than 20 billion baht in the pipeline, president Zhang Liangang said the market in Thailand will gradually revive after bottoming out in this year's second quarter, with strong confidence in the government's efforts.
"But as Covid-19 vaccines are unavailable now, we will take a cautious step," he said.
Since its establishment in Thailand in 2017, the company has maintained a commitment to invest in property development each year, with targeted revenue growth of more than 50% annually.
Despite the pandemic and unfavourable sentiment, Risland this year launched three new condo projects worth a combined 20 billion baht. Two of them are large-scale projects with 2,000-3,000 units.
"Our new projects we plan to launch next year will have a combined sales value of more than that in 2020," Mr Zhang said. "One of them will be a mixed residential and hotel project in Phuket."
As the Phuket property market remains stagnant amid sluggish tourism, the project is scheduled for launch in the second half of 2021, with phase one alone worth 5 billion baht.
Risland launched two condo projects worth a combined 10-11 billion baht in each year during 2018-19. It launched a total of seven projects worth a combined 44.4 billion baht in three years.
Maneekarn Issareekosol, the company's regional director of marketing strategy and corporate communication, said the company last month launched The Livin Ramkhamhaeng condo project with 1,938 units and recorded 400 units sold.
"We moved forward with new launches amid a sluggish condo market, as the virus crisis caused many projects in the pipeline to be put on hold," Ms Maneekarn said. "Most developers either slowed new projects or delay them to next year."
She said the absorption rate of new condo supply launched in the first half dropped to 17% from 34% in the second half of last year.
The Bangkok condo price index dipped 5.3% to 134,700 baht per square metre as of the end of June, as newly launched projects offered lower prices than the market value.
To capitalise on the opportunity, Risland launched the condo project on Ramkhamhaeng Road despite many remaining unsold units available in the area.
The company expects to have 800 units sold worth 1.6 billion baht by the end of the year.
Source: https://www.bangkokpost.com/business/1984019/risland-pins-hopes-on-property-market-uptick