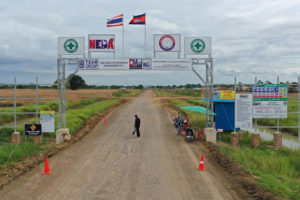 Highway connecting Cambodia's Banteay Meanchey province to Thailand's Aranyaprathet district is 70% complete
SEE ALSO: Faster Work Urged On New Goods Transit Terminal At Thai-Cambodian Border Near Aranyaprathet
A new highway connecting Thailand and Cambodia is 70% complete, according to the Department of Highways.
The four-lane road will be named Highway 3646 and connect Ban Nong Ian in the Aranyaprathet district of Sa Kaeo province to the Thailand-Cambodia Friendship Bridge in Stung Bot community in Cambodia's Banteay Meanchey province.
The 2 billion baht road is about 25km long and will link Highway 33 and Highway 3366. It will help ease traffic at the Ban Khlong Luek checkpoint and facilitate logistics and tourism among the two countries in the future.
The construction of the highway is scheduled to be completed by next February.
Source: https://www.bangkokpost.com/travel/2118731/thailand-cambodia-highway-70-complete/