High Speed Rail coming to Thailand but critics cite Low Speed decision making
77kaoded reported on the latest developments in the building of Thailand's High Speed Train network that will link the country by rail to China via Laos.
The Department of Rail Transport has put some dates out when the public can be expected to use the various lines. There is some delay yet as critics see how Laos and China did it in tandem but how the Thais are struggling to meet deadlines.
The joint collaboration that was the Laos-China connection to Vientiane was completed in double quick time and is operational.
The Thai section from Nong Khai to Bangkok has met delay after delay especially over land acquisition disputes and contractual issues.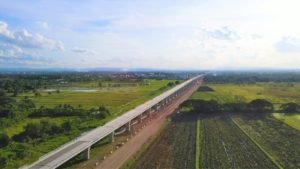 Pre-pandemic in 2019 the transport minister Saksayam Chidchob put his full weight behind the High Speed plans, despite the fact it's all a different guage and style to the already completed tracks across the border.
The DRT said that the Laos-China train had investment of 30% from Laos and 70% from China. There was far more input from Chinese tech angles.
The Thai project that has racked up 179 billion baht in spending so far is all Thai investment.
China is helping out with some technical issues but mostly it is Thailand's baby, with the aim to increase the ability of local organisations and firms in handling a modern rail network.
The department went further in claiming that the Thai side of the railway will go faster than the Laos side and is much cheaper to build per kilometer.
They said the Thai side would cost 358 million/km and the Laos side was 480 m/km.
So what are the latest dates for opening of the High Speed 250 kmph rail in Thailand?
For the Bangkok to Nakhon Ratchasima or Korat stretch currently under construction it is scheduled to open to the public in 2026.
The Korat to Nong Khai section won't be open until at least 2028.
Many matters concerning how the Thai and Laotian lines meet have yet to be ironed out despite many high level meetings.
It all means that border transfers will be a feature of the line rather than any seamless transition from one country to the next.
That may disappoint some purists of train travel.
Source: https://aseannow.com/topic/1266762-high-speed-rail-coming-to-thailand-but-critics-cite-low-speed-decision-making/