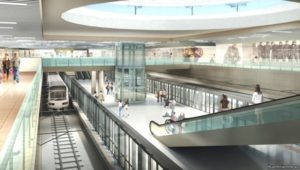 The Ho Chi Minh City has sought a permission from the central government to develop a shopping mall beneath a metro station in a joint venture with a consortium of Japanese investors, Thanh Nien News Online reported on Monday.
The US$303.2 million project will cover about 45,000 square metres of which the shopping zone will take up 40 percent of the area, according to news website Dau Tu.
In the proposal, the city's People's Committee said it wanted to use official development loans from Japan to build the walking streets, a square and other infrastructure works for the mall.
Toshin Development, a developer of shopping centres in Japan, will join hands with other Japanese companies such as Nikken Sekkei Civil Engineering Ltd and Osaka Chikagai Company and the country's fund for overseas infrastructure investment JOIN, to build the mall.
The mall will be built under the first station in the city's first metro from Ben Thanh market to District 9's Suoi Tien theme park. Work on the 20-km metro route began in 2012 and is expected to be completed in 2020.
Source: http://englishnews.thaipbs.or.th/hcmc-proposes-build-mall-metro-station-japanese-firms/