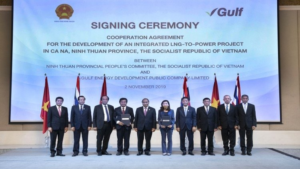 Gulf Energy inks agreement to study building of 6,000 MW LNG power plant in Vietnam's Ninh Thuan
By THE NATION
Prime Minister of the Socialist Republic of Vietnam Nguyen Xuan Phuc together with Vietnam's Minister of Industry and Trade Tran Tuan Anh on Saturday (November 2) presided over the signing of a cooperation agreement for the development of an integrated LNG-power project in Vietnam's Ninh Thuan province between Gulf Energy Development Public Co Ltd (Gulf) and Luu Xuan Vinh, president of Ninh Thuan Provincial People's Committee.
The signing, held on the sidelines of the 35th Asean Summit and Related Summits at Impact Muang Thong Thani, was led on the Thai side by Gulf's president Porntipa Chinvetkitvanit, former Supreme Court president Cheep Jullamon and former Minister of Energy Viset Choopiban.
The project aims to study the feasibility of building a liquid natural gas (LNG) power plant with the capacity of 6,000 megawatts and fully equipped with a LNG processing and distribution station to support economic and urban expansion in the Southeastern region of Vietnam.