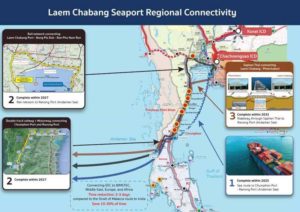 Greenlight for studies for 80-100 kilometre "Thai Bridge" to connect Petchaburi (west) and Laem Chabang (east) across the Gulf of Thailand
A high level meeting chaired by PM Prayut Chan-ocha yesterday gave approval to plans to develop Chonburi's Laem Chabang port on the Eastern Seaboard creating a hub of trade and investment.
Central to the plan – ambitiously planned for a 2027 finish – is to develop the seaports in Ranong on the Andaman Sea and Chumphon on the gulf side. And build a road way from Ranong through to Petchaburi then ACROSS the Gulf of Thailand to Chonburi. This would be a 4 lane bridge and hard shoulder traversing the Gulf at a distance of 80-100 kilometers. Cutting 2- 3 hours off road journey times the project is planned for a 2032 finish.
Meanwhile Ranong and Chumphon will be connected by a "Land Bridge" that will comprise the motorway and a rail network connecting the two southern cities. The railway would continue north.
Thus ships will no longer have to go through the straits of Malacca around Singapore to the Gulf of Thailand.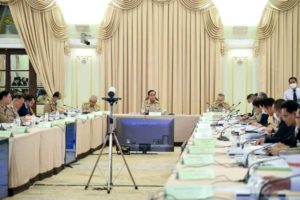 Two or three days will be saved on trips for containers thus giving Thailand the edge.
The "F" port at Laem Chabang will be thoroughly developed to cope with the anticipated new traffic.
The rail networks will be developed between Laem Chabang and the south connecting the EEC (Eastern Economic Corridor) plans with the SES (Southern Economic Sector).
Thaivisa notes that for decades Thai authorities discussed the possibility of the "Kra Isthmus" project that would create a canal across Thailand to aid international trade.
This new plan seems to be a version of that that would be more economically viable.
But a bridge across the Gulf is another matter entirely.
It should be noted that the 1.18 trillion baht project is still at the feasibility stage.
But should it become a reality having a bridge connecting Chonburi and Pattaya to Hua Hin and the south would be a major development for not just international trade but tourism also.
The plans would include investment from China, Myanmar, Cambodia, Vietnam and Laos.
Source: Thaivisa & Manager Online