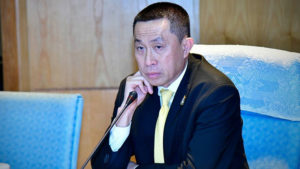 Green light for north, west, east expansion of Bangkok's Suvarnabhumi airport – completion by early 2024
By The Nation
The Airports of Thailand (AOT) got the go-ahead on Friday for the northern, western and eastern expansion of Suvarnabhumi airport at a cost of Bt60 billion, said Transport Minister Saksayam Chidchob.
The plan was approved at a meeting between the committee tasked with boosting the airport's capacity, the National Economic and Social Development Council, the Finance Ministry and AOT.
The East expansion and West expansion projects each will boost capacity by 15 million passengers per year and each cost over Bt7.8 billion.
The northern expansion will serve 30 million passengers per year and cost Bt41.26 billion.
The AOT told the meeting that the airport needs to expand after seeing 60 million passengers per year pre-Covid-19, while the existing main passenger terminal could only cater to 45 million per year.
The AOT is also developing a third runway, which will raise capacity from the current 68 to 90 flights per hour, lifting passengers per year from 60 million to 90 million.
The proposed expansion is due to be vetted by the Cabinet in March.
The bidding process to build the northern expansion is expected to take six months, with construction due to be completed in September, 2023. Construction of the eastern and western expansions is slated for completion in January 2024.
AOT president Nitinai Sirismatthakarn said the AOT is ready to make investment as planned. It has cash flow of Bt32 billion.
Source: https://www.nationthailand.com/business/30401310