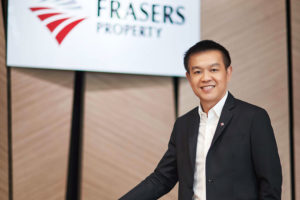 Frasers Property Thailand chief executive Thanapol Sirithanachai says people management is the key to smooth integration
Ensuring everyone is on the same page
SET-listed Frasers Property Thailand (FPT), a property arm owned by the Sirivadhanabhakdi family, continues to build a team under "one platform" after the latest merger of industrial, commercial and housing property development businesses last year.
Leading an organisation through three mergers in nine years is no piece of cake. The key is people management, said Thanapol Sirithanachai, country chief executive, who has been involved since the first integration.
"At first it was easy as we built from the bottom up and developed a corporate culture on our own," he said. "The latest merge was challenging as we have to adopt a policy from Singapore-based parent firm Frasers Property Limited [FPL]."
In 2012, SET-listed Univentures (UV) acquired Golden Land Property Development Plc, which was founded in 1978 by property veteran Khunying Sasima Srivikorn and listed in 1994.
UV is controlled by Thapana and Panote Sirivadhanabhakdi, the two sons of billionaire Charoen, through a share purchase in 2007 by one of their investment arms, Adelfos Co.
Mr Thanapol, formerly UV managing director who joined UV in 2003, was assigned to take charge of Golden Land in 2012, brushing up its portfolio and redeploying its business with an aim to return a profit after losses for several consecutive years.
TEAM BUILDING
Golden Land at the time was a mix of pre-acquisition employees, those from UV and newly recruited staff. Top executives in the early stages were headhunted from other listed developers, mainly Quality Houses.
"We improved our workforce and management teams with a lot of integration activities, particularly team building and employee relations, to instil in them a clear, similar goal," said Mr Thanapol, also former president of Golden Land.
In 2014, Golden Land divested non-core assets worth more than 2 billion baht. Most were land bank plots in provinces including Krabi, Prachuap Khiri Khan's Thap Sakae, Ban Chang in Rayong and Chiang Khong and Muang districts in Chiang Rai.
Eventually, its core businesses were only housing development and commercial properties including office, retail and hotels.
The first quarter of 2014 was the first time in six years Golden Land turned a profit.
By the end of 2014, it acquired upper-end developer Krungthep Land (KLand) with an investment of 3.56 billion baht, resulting in total revenue improving from 1.6 billion baht to 4.4 billion, with total assets growing from 12 billion to 21 billion.
"The merger with KLand grew our workforce, in addition to assets and interesting projects," he said. "The integration included both people and business. It was not difficult because the nature of business was similar."
However, it took almost two years to make staff from the three companies believe in the corporate core values and take the same direction by integrating existing and new employees, middle managers and C-suite executives, said Mr Thanapol.
From only 80 staff in 2012, Golden Land was rebuilt to more than 800 employees before the merger with FPT in mid-2020.
During 2012-19, its revenue grew 25-30% per year on average, from 400-500 million baht in 2012 to more than 17 billion baht in 2019.
Since August last year, the integration to one platform at FPT was implemented after the merger with Golden Land.
FPT was renamed from Ticon Industrial Connection in early 2019 after Frasers Property Holdings (Thailand) became the major shareholder in 2017.
With major shareholders Charoen and Khunying Wanna, FPT is spearheaded by their youngest son, Panot, who is also group chief executive of FPL in Singapore.
FPT has three units: housing development under Frasers Property Home, commercial properties under Frasers Property Commercial, and industrial business under Frasers Property Industrial. Total assets have more than doubled to 92 billion baht from 43 billion.
The total number of staff rose to 1,309, which comprised 569 at Home, 215 at Commercial and 258 at Industrial, with 267 shared services staff as of Aug 31.
Under one platform, back-office systems such as accounting, human resources and IT, which need to follow the Singaporean parent firm's policy, have improved and been completely integrated, said Mr Thanapol.
ELIMINATING US AND THEM
"Cultural differences from each organisation can emerge. There should not be 'us' and 'them'. We have built from the root and blended it together," he said. "Some policies from FPL cannot be changed, but we can localise them to mix with Thai culture."
The most difficult part was figuring out how to make former staff from Golden Land and those at FPT feel like a team, said Mr Thanapol. Some Golden Land staff worked there for eight years and had an attachment. They had to build engagement with those at FPT, he said.
"Communication is the most important factor in building a team. Knowing more is better than knowing less because there are no more secrets. Communication should be clear, accurate and transparent," said Mr Thanapol.
In a quarterly town hall meeting held early last month, the company worked to build employee confidence because they were worried about how the pandemic affected the company and their jobs, he said.
"We told the staff our housing and industrial business was healthy. Commercial properties including offices, retail and hotels might see an impact, but the company remained profitable and stable. We have not cut salaries, offered layoffs or left anyone behind," said Mr Thanapol.
However, staff should always be ready for relocation as the pandemic affects businesses, he said. Staff should adjust and be ready to learn new skills, said Mr Thanapol.
"Fortunately, the one platform integration comes at the right time as our businesses diversify under one umbrella. Housing sales remain good, while warehouse and industrial businesses are performing well despite a slowdown in office, retail and hotels," he said.
The company needs to retain staff because when business resumes in the future, it might be difficult to recruit skilled people to return, said Mr Thanapol.
"It is not easy to do team building while working from home, but we have to continue with online methods," he said.
During the pandemic, FPT's strategies vary by business unit: refocusing locations and products for home, retaining tenants and clients for commercial, and exploring a purple ocean strategy to tap into both new and current markets for industrial.
"Collaboration, respect, progressive and real are our new core ideals that will guide us to the same goal," said Mr Thanapol.
Source: https://www.bangkokpost.com/business/2176275/ensuring-everyone-is-on-the-same-page