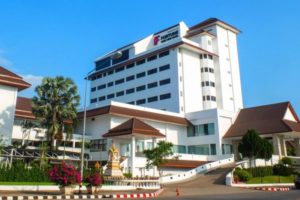 Fortune Hotel Group eyes popular Thai destinations after expanding mostly in provincial areas
Fortune Hotel Group, the hospitality arm of CP Land Plc, is planning to shift its long-term plan to popular tourism destinations such as Phuket and Pattaya after expanding mostly in provincial areas for years.
Chertchai Kamolnetr, vice-president of the hotel business group, said the viral outbreak made the group focus more on a diverse market.
Even though Phuket and Pattaya have oversupply concerns, the group believes all available rooms could be absorbed by high demand, divided between Thai and foreign tourists.
Apart from being famous for beach holidays, Pattaya is located near industrial estates that can attract the corporate segment.
Phuket should be able to revive nicely thanks to long-haul tourists who trust in Thailand's public health system.
He said the group plans to develop a wellness hotel as there are still only a few players in this market.
Tourists will seek more health-related services following the pandemic, such as healthy dining and wellness activities.
With the uncertainty of the viral outlook, he said the company is rethinking its investment strategy.
At present, only some renovations can carry on, such as a plan to partially renovate property in Nakhon Phanom, and a full renovation in Loei.
It also kept the opening schedule for the new 107-room hotel, Fortune Sea View Rayong, on July 1.
Mr Chertchai said the hotel location in the Eastern Economic Corridor will attract the corporate segment which is supposed to be a key source market.
The occupancy rate during weekdays is expected to be 30% and more than 80% at weekends.
From July, the company's hotels with the most forward bookings are in Nakhon Phanom, showing a positive sign.
The group has 10 owned hotels in Nakhon Phanom (two properties), Chiang Rai, Tak, Nakhon Ratchasima (two), Loei, Nakhon Si Thammarat, Buri Ram and Rayong, with a total of 1,352 rooms.
There is one hotel in Khon Kaen slated to open in 2023.
Fortune Hotel Group aims to have 15 owned hotels with 1,600 rooms in 3-5 years.
The 400-room Grand Mercure Bangkok Fortune is an investment under a management agreement struck with Accor.
"We expect hotel revenue will return to normal within two months after reopening thanks to a strong focus on local travellers nationwide, which account for 80% of our total guests," said Mr Chertchai.
But this year total revenue will be cut by half after missing one quarter due to the outbreak.
CP Land also operates in residential development, office rental, industrial estates, property management, energy and convention centres.
Source: https://www.bangkokpost.com/business/1947120/fortune-eyes-popular-destinations