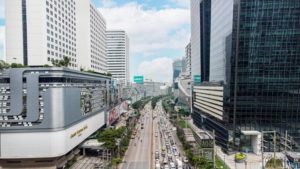 Fortune Hotel Group aims to attain hotel revenue of B1.5bn by 2029
Fortune Hotel Group, the hospitality arm of CP Land, has rolled out a long-term strategic plan to increase hotel revenue to 1.5 billion baht by 2029 from 52 properties, targeting the budget segment to attract domestic travellers.
After freezing new investment during the outbreak, the five-year plan starting from 2022 aims to add 39 properties under an investment budget of 2.2 billion baht from 13 existing hotels, said Chertchai Kamolnetr, vice-president of the hotel business group.
He said the Fortune D brand which offers 78 rooms will be the key focus as budget hotels require less investment at around 60-70 million baht and the group already has land plots in potential areas.
Four new Fortune D hotels in Prachin Buri, Samut Sakhon and two hotels in Khon Kaen will be opened from next year to serve the corporate segment from nearby industrial estates, Mice (meetings, incentives, conventions and exhibitions) as well as local travellers.
Meanwhile, its 4-star Fortune brand will be located at major tourism destinations such as Pattaya, Phuket and Hua Hin, where the group will seek new land plots. It expects to open 5-7 Fortune hotels in the next five years.
"The domestic market will account for 60-70% of guests in every hotel segment as foreigners were the first market to disappear when crises hit over the past decades," Mr Chertchai said.
Fortune Hotel Group generated revenue of 720 million baht in 2019 before plunging by 50% last year.
However, the expansion plan should drive up revenue to 1.5 billion baht by 2029, at which point hotel income might have stabilised.
Mr Chertchai said the group is cooperating with CP's True Corporation to implement its royalty programme via TrueMoney Wallet by next January, providing discounts and points from their stays which can be used at other shops under CP Group such as 7-Eleven convenience stores.
At present, properties in Khao Yai National Park and Nakhon Phanom are popular among Thais with 70-80% occupancy rate this month, while the average room rate for provincial hotels has now almost reached the pre-pandemic level.
Sunthorn Arunanondchai, president and chief executive of CP Land and Fortune Hotel Group, said CP Land's overall revenue in 2022 may rise by 10-15% from this year, but the hotel business will remain depressed.
The 402-room Grand Fortune Hotel was temporarily closed on July 18 for renovation. Since its reopening on Oct 15, only 70 rooms have been booked despite the country's reopening.
Source: https://www.bangkokpost.com/business/2220663/fortune-aims-to-attain-hotel-revenue-of-b1-5bn-by-2029