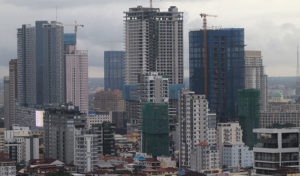 Foreign Direct Investment in Cambodia's construction sector touches $334M
Cambodia continued to receive substantial Foreign Direct Investment in the construction sector in 2021, despite the economic slowdown in the wake of Covid-19, showed the Asean Investment Report 2022.
According to the report, FDI in construction rose from $260 million in 2020 to $334 million in 2021 in the Kingdom, reflecting expanding industrial and economic activities even during the worst days of the pandemic.
The construction sector in Cambodia is projected to expand at an average of 6.3 percent in 2022 and will grow 9.4 percent between 2023 and 2026, reported Bussineswire's Cambodia Construction Industry Report 2022. This forecast was supported by the ongoing investments in the infrastructure, commercial, and residential sectors and the strong demand for real estate.
Lor Vichet, Phnom Penh President of Global Real Estate Association, told Khmer Times yesterday that the demand for housing in Cambodia is expected to go higher in the coming three to five years and that this demand is mostly driven by a young population.
"In Cambodia, the housing sector has been generating good demand for the last several years. Generally, there is greater demand across the Asean region for the construction sector to grow further," Vichet said.
He also said that the increase in the flow of FDI to the construction sector was helped to a great extent by the changes in the Investment Law, brought about by the Royal Government of Cambodia last year.
Aun Pornmoniroth, the Deputy Prime Minister, Minister of Economy and Finance, recently estimated that the real estate sector will grow by 4.8 percent in 2022, and that the momentum is mostly driven by the existing demand for housing and office properties.
The 2022 Real Estate Survey by Realestate.com.kh indicated strong demand for housing in Cambodia from first-home buyers, re-buyers, and local and international investors, with more than 90 percent of respondents indicating that buying property is a good investment.
According to Ly Rasmey, secretary of state at the Ministry of Land Management, Urban Planning and Construction (MLMUPC), recently, Cambodia provided licenses to some 2,000 construction projects with a total investment of $1.2 billion in the first half of 2022.
"The construction sector has significantly contributed to the economic development and has created a lot of jobs for our people," Rasmey had said.
Construction is one of the four pillars supporting the country's economy. According to the MLMUPC, from 2000 to June 2022, Cambodia granted licenses to 57,590 construction projects across the country with a total investment of $66.2 billion.
Source: https://www.khmertimeskh.com/501174759/fdi-in-cambodias-construction-sector-touches-334m/