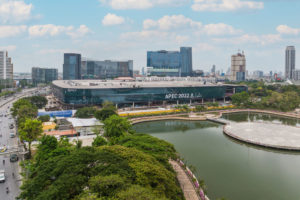 Final countdown to the reopening of Bangkok's revamped Queen Sirikit National Convention Center, set to become Asia's ultimate event platform
Frasers Property (Thailand) Public Company Limited (FPT) has been entrusted by N.C.C. Management & Development Company Limited (NCC) to develop the concept and manage construction for the new Queen Sirikit National Convention Center (QSNCC) in line with international standards, transforming it into Asia's latest world-class event destination as per NCC's plan for the space to become the 'Ultimate Inspiring World Class Event Platform for All'.
With construction now over 80% completed, FPT is fully confident that the finished project will be handed over to NCC as planned. QSNCC will be ready to host world-class MICE events lining up from the first month of reopening through next year. Among the confirmed events at QSNCC is the APEC 2022 Summit that will welcome top leaders from its 21 member economies.
Mr. Thanapol Sirithanachai, Country Chief Executive Officer of Frasers Property (Thailand) Public Company Limited, said: "FPT is proud to take part in the revamp of Queen Sirikit National Convention Center, which represents Thailand's image in welcoming visitors from all over the globe. Applying our expertise and experience from project development to management, our team has focused on quality at every step of the way, from design to construction. Every part of our work has gone smoothly and according to plan. With the structure of the building completed, we are now in the final phase of this project and have started interior decoration under the concept of maintaining and building on the legacy of QSNCC to present Thailand's unique culture to the international audience. We are confident that with our proactive management, careful planning, and cooperation among FPT's experienced personnel, we can overcome any challenge and time constraint. We are expecting final delivery of this project to international standards in time for the reopening, scheduled for September 2022."
For the revamped QSNCC to become the Ultimate Inspiring World Class Event Platform for All and Asia's new world-class event destination, in addition to the modernized, elegant design which reflects the Thai identity, the project has been designed to accommodate comprehensive meeting and event needs. With flexible space and state-of-the-art technology and facilities, it is more ready than ever to meet every need of event organizers as well as visitors.
With a total event space of 78,500 square meters, the new QSNCC boasts exhibition halls that are outstanding in terms of modern engineering and construction techniques. The long span truss structure for weight optimization without columns provides greater and more flexible space, making it easier to manage logistics and loading of products or exhibits of any kind to the exhibition space. This means several meetings and exhibitions can be held at the same time. QSNCC provides main halls measuring over 50,000 square meters, two large conference halls totaling 10,000 square meters, 50 smaller meeting rooms of varying sizes, as well as facilities and infrastructure suitable for meetings and events of all types. It is also equipped with 5G technology, embracing the era of Web 3.0 for a more complete, seamless connection.
QSNCC upholds international standards for safety, quality of life, and the environment. It uses a smart system to control access to areas and manage facilities inside the building, with security and energy efficiency as top priorities. Moreover, QSNCC is committed to attain Leadership in Energy and Environmental Design (LEED) Silver certification.
Located in central Bangkok, QSNCC is well connected by several modes of transportation, making it a prime venue for major events since it first opened. To provide greater convenience to event organizers and visitors, the new QSNCC will offer five times more parking space that can accommodate up to 3,000 cars. It is also linked to a Metropolitan Rapid Transit (MRT) station, and visitors can enter the convention center easily from there.
"FPT strongly believes that the strong return of QSNCC will mark a defining moment for the service sector, with its full capacity equipped with the best meeting-related technology and facilities that meet international standards. The project also includes retail space under the concept of Bangkok Active Lifestyle Mall (BALM), which will become a new destination for Bangkokians, accommodating QSNCC visitors, members of nearby communities and urban workers. It is expected to attract more than 13 million visitors annually. For FPT's part in this historical achievement, we have used our experience and knowledge over the years of providing comprehensive real estate services both in Thailand and overseas to elevate the standards of Thailand's event platform services. We sincerely hope that QSNCC will represent Thailand in delivering world-class experience to every event organizer and visitor," Mr. Thanapol concluded.
Currently, BALM retail space is in the process of finalizing deals with leading brands. It already made 40% progress. For leading brands interested in becoming part of this wellness and lifestyle space in Bangkok, please contact sales@qsncc.com or 02 229 3111 for more information.
Source: https://www.bangkokpost.com/thailand/pr/2283278/final-countdown-to-the-reopening-of-revamped-queen-sirikit-national-convention-center-set-to-become-asias-ultimate-event-platform