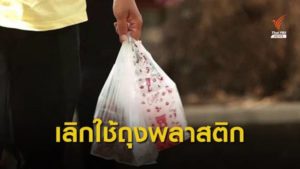 End of single use plastic bags in Thailand from January 2021
11 September 2019
The light at the end of the tunnel is coming for the use of plastic bags in Thailand.
Thai media has said that the "D-Day" for the end of single use plastic bags in the kingdom is January 1st 2021.
Thai Public Broadcasting Service reported that an agreement has been inked between the Ministry of the Environment and major retailers like CP Group (7-Eleven), Central and The Mall Group to stop handing out plastic bags by January 1st 2020.
This will result in an immediate 30% reduction in the billions of bags handed out to Thais annually.
Strategies are in place to encourage "mom and pop" stores and fresh food markets to begin to follow suit in the meantime with the aim that Thailand will be plastic bag free by January 1st 2021.
The Natural Resources and Environment Ministry will be working on ways to make the ban on single use plastics a legal requirement.
Ministry head and Chartthaipattana MP Varawut Silpa-archa, a relative of a former prime minister of Thailand, is leading the drive.
Thailand has been named as one of the leading polluters through plastic bags. The country has been cited as the sixth worst polluter of the oceans worldwide.
ThaiPBS said that measures already in place had resulted in 2 billion less plastic bags being used in the last year.
But those were only the first steps – the aim is for a total ban and a complete change in the mindset and behavior of the Thai population.
Source: Thaivisa and ThaiPBS