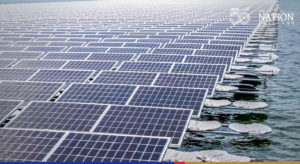 Electricity Generating Authority of Thailand to build 2nd hybrid hydro-solar power plant at Ubolratana Dam in Khon Kaen province
The Electricity Generating Authority of Thailand (Egat) will build its second hybrid hydro-solar power plant at the Ubolratana Dam in Khon Kaen province, Egat deputy governor Prasertsak Cherngchawano said.
Prasertsak said the solar electricity generating facility will be built on the dam's reservoir and its solar panels will be capable of generating 24 megawatts of power to feed into the hydro-power plant of the dam.
The solar system will be equipped with a BESS (Battery Energy Storage System) so that the Ubolratana power plant would be capable of feeding power to the grid system continually with stability, the deputy governor added.
Prasertsak said that Egat had decided to add the solar-cell function to its Ubolratana power plant after the success of its hybrid hydro-solar power generating project at Sirindhorn Dam.
The solar panels were built on the Sirindhorn Dam's reservoir to generate 45 megawatts of power that has already been fed to the national power grid for commercial use since October 31 last year.
Prasertsak said the hybrid system at the Sirindhorn Dam created power generating stability and the floating solar panels did not cause any environmental and ecological damage to the reservoir.
The deputy governor said Egat has a development plan to achieve carbon neutrality by using reusable clean energy. He said the two hybrid power plants at the two dams would be able to help Egat reduce carbon emissions by some 47,000 tonnes a year.
The study of the second floating solar panel project at the Ubolratana Dam would also be used to expand the hybrid power-generating projects at other dams, Prasertsak added.
He said Egat is selling bidding documents to companies interested in installing the floating solar panels at the Ubolratana Dam and the bidding envelops will be opened for consideration on March 9.
Source: https://www.nationthailand.com/business/40012089