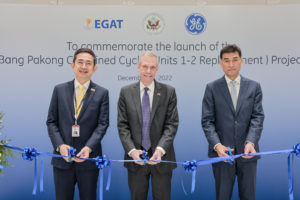 EGAT's Bang Pakong Combined Cycle Power Plant, the first 9HA.02 power plant in operations in Thailand is a Strong Showcase of Thai-U.S. Collaboration, says U.S. Ambassador Godec
• The newly operational Bang Pakong combined cycle plant (powered by two new GE 9HA gas turbines) is set to achieve goals of improved efficiency and reliability, and reduced CO2 and NOx emissions
• GE's 9HA.02 – for the first time in operation in Thailand – is GE's most efficient and advanced gas turbines for the 50Hz market
• US Ambassador Robert F. Godec says the Bang Pakong power plant is a strong showcase of Thai-U.S. engineering collaboration, producing great outcomes at many levels
• New equipment and technologies used at the Bang Pakong power plant will also enhance the reliability and flexibility of Thailand's power system and lower generation costs
The Electricity Generating Authority of Thailand's (EGAT) commitment to reducing emissions was praised by United States (U.S.) Ambassador to Thailand Robert F. Godec at a launch ceremony today, to commemorate the recent start of commercial operations at EGAT's refurbished Bang Pakong Power Plant Block 1 and 2. EGAT Governor Boonyanit Wongrukmit and GE Gas Power Asia President and CEO Ramesh Singaram were present at the event.
Three months on from the official commencement of operations at Bang Pakong Power Plant Block 1 and 2, announced on September 8, the upgraded facilities – including two new gas-fired combined cycle blocks, powered by GE (NYSE: GE) 9HA gas turbines is set to achieve solid efficiency and reduced emissions results. Emission reduction improvements for a typical HA combined cycle is 60% less carbon intensity than the global average coal fleet, and ~25% less carbon intensity than the global average gas fleet.
The event is timely in view of Robert F. Godec's recent appointment as U.S. Ambassador to Thailand, and was highlighted in his remarks. "Congratulations to EGAT for overseeing a successful commencement of operations at Bang Pakong Power Plant Blocks 1 and 2. The comprehensive refit showcases the Thai-U.S. engineering collaboration with positive results being produced on many levels," said Ambassador Godec.
"These targets, especially those related to emissions, are good for Bang Pakong, and Thailand which aims to achieve carbon neutrality, and net-zero emissions by 2050 and 2065 respectively. This project, with GE equipment and technologies playing a major role, also bolsters U.S.-Thai partnerships and serve as a benchmark for new joint projects to accelerate decarbonization. Thailand and the U.S. have shared interests in building a resilient and sustainable future, and we recently welcomed Thailand to the Net Zero World Initiative[1], a U.S.-led program to leverage U.S. government expertise, philanthropy, and partner countries to accelerate the transition to net zero emission energy systems," Ambassador Godec added.
Upgrading the Bang Pakong plant involved replacing five of the original blocks burning gas and diesel, with two new gas-fired combined cycle blocks powered by GE 9HA gas turbines. Recognized as the most efficient gas turbine in the world, the 9HA turbine is currently in operations globally with over 75+ units generating over 42GW, EGAT's Bang Pakong power plant is the first utility in Thailand to install the award-winning 9HA turbine and technologies.
"This project is aligned with EGAT's goals to improve efficiency and reliability, reduce CO2 and NOx emissions, and lower electricity costs for its overall assets, replacing them with highly efficient combined cycle power generation equipment. It is also in response to the government's commitment to the retirement of less efficient and older plants, to be replaced with new highly efficient gas-powered combined cycle capacity as a solution to reduce emissions and increase the reliability and flexibility of Thailand's power system with a goal of reaching carbon neutrality by 2050 and net-zero greenhouse gas emissions by 2065." said Mr.Boonyanit Wongrukmit, EGAT Governor.
Ramesh Singaram, President & CEO for GE Gas Power Asia said, "We are proud of our long-standing association with EGAT. Over the past 40+ years, we continue to further solidify this special bond, built on trust and mutual respect. Today's celebration of the launch of the Bang Pakong Combined Cycle Power Plant, the first 9HA.02 project and GE's largest-power plant in Thailand marks another pivotal milestone in our relationship. I value the opportunity to re-affirm our commitment to working with EGAT to help Thailand stay at the forefront of the energy transition in Asia.
The new blocks add approximately 1,400 Megawatts (MW) of electricity, the equivalent power needed by approximately three million Thai homes. In addition to the 9HA.02 gas turbines, two GE advanced STF-A650 steam turbines, and two W86 generators have also been installed, and GE has signed a long-term agreement to provide parts, repairs, and maintenance services for the Bang Pakong sites.
GE Gas Power equipment generates up to 30% of Thailand's power today, with a fleet of over one hundred gas turbines. Since opening its doors for business in Thailand in 1900, GE has grown to become one of the largest foreign infrastructure providers in the country with a significant presence in the energy, aviation, and healthcare sectors.
About GE Gas Power
GE Gas Power is a world leader in natural gas power technology, services, and solutions. Through relentless innovation and continuous collaboration with our customers, we are providing more advanced, cleaner and efficient power that people depend on today and building the energy technologies of the future. With the world's largest installed base of gas turbines and more than 670 million operating hours across GE's installed fleet, we offer advanced technology and a level of experience that's unmatched in the industry to build, operate, and maintain leading gas power plants. For more information, visit the company's website at www.gepower.com. Follow GE Power on Twitter @GE_Power and on LinkedIn at GE Power.
GE Gas Power is part of GE Vernova, a dynamic accelerator comprised of our Power, Renewable Energy, Digital and Energy Financial Services businesses, focused on supporting customers' transformations during the global energy transition
For more information, contact:
Laura Aresi Zatalini Zulkiply
Public Relations Leader Regional Communications Leader
GE Gas Power GE Gas Power
laura.aresi@ge.com zatalini.zulkiply@ge.com