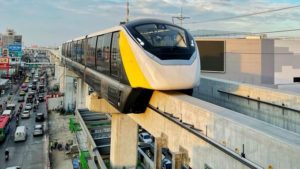 December set for Bangkok's Pink and Yellow monorail line trial service
The partial opening of the Yellow and Pink monorail lines for trial service has been set for December with the launch for commercial operation earmarked for early next year, according to the Department of Rail Transport (DRT).
Pichet Kunathammarak, the DRT director-general, disclosed on Tuesday that the joint committee from the Mass Rapid Transit Authority of Thailand (MRTA), Eastern Bangkok Monorail Co Ltd and Northern Bangkok Monorail Co Ltd had agreed to run service trials of the two monorail lines in December.
The 30.4-km Yellow Line will have 23 stations in total, shuttling commuters between Lat Phrao in Bangkok and Samrong in Samut Prakan, while the 34.5-km Pink Line will have 30 stations, linking Khae Rai in Nonthaburi with Min Buri district in the east Bangkok via Ram Intra Road.
Mr Pichet said that the fares for the two monorail lines have not yet been decided because the fare calculation has to be based on the Consumer Price Index released 30 days before the official train operation.
However, he added that the price will likely range from 15-45 baht, depending on the distance.
Monthly, student or elderly passes may be launched to increase ridership, he said.
Mr Pichet added the Transport Ministry has advocated the common ticketing system be adopted for the two lines. The DRT and the MRTA have instructed the line operators to develop a ticketing facility that is compatible with Europay Mastercard and Visa payment methods so as to provide ease of travel for customers. The monorail lines will also accept the Rabbit card used by BTS Green Line, Gold Line and Bangkok's Bus Rapid Transit (BRT).
The trial runs will be offered to those who register to participate in the trial service.
Mr Pichet said that the monorail links will start collecting fares from February 2023 onwards.
The overall construction of the Yellow Line project is now about 96.79% complete, with the electric rail operation system being about 96.56% complete and the rail tracks 100% complete.
The Pink Line is now more than 88% complete, according to the Transport Ministry.
Source: https://www.bangkokpost.com/business/2417371/dates-set-for-pink-yellow-line-trials