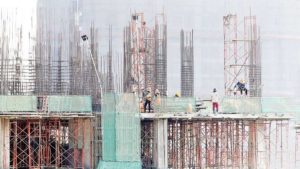 Construction sites with no nets in Cambodia face closure
Phnom Penh authorities yesterday warned they would close any site which does not have proper safety nets to prevent construction material from falling on people.
This measure comes after a 23-year-old man Yat Sitha was killed when a plank from an under-construction building fell on his head in Chamkar Mon district's Tonle Bassac commune.
Chamkar Mon district governor Kheang Leak said Sitha was walking by the building during the incident which happened at 3pm on Tuesday.
He blamed the construction site owner for the accident which happened because the safety net used was brittle and gave way when the plank fell.
"From now on, the site will be closed by authorities if any people are killed or hurt by falling debris," he said.
Tonle Bassac commune police chief Lieutenant Sal Sondos said yesterday the construction owner ran away after the accident and now police are searching for him.
"The construction owner must compensate the victim's family and also face criminal charges," Lt Sondos said.
Article 207 of the Criminal Code states that all actions that result in the death of a person because of neglect, carelessness, apathy and not abiding by the law will be deemed as unintentional murder.
The penalty for unintentional murder is one to three years in prison and a fine of between $500 and $1,500.
Source: https://www.khmertimeskh.com/501186227/construction-sites-with-no-nets-face-closure/