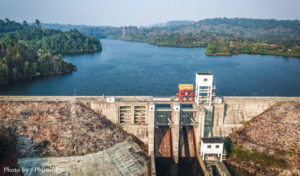 Construction of two power projects, solar and hydro-power plants, well under way in Cambodia's Pursat province
Two power projects, solar and hydro-power plants, are well under way for the construction in Pursat province – a western part of the country sharing its border with Thailand.
Victor Jona, director-general of energy and spokesperson at the Ministry of Mines and Energy, said yesterday that the solar park is now 20 percent complete and the hydro-power plant is 10 percent built. The government approved the projects last in April last year.
Stung Pursat I is being developed by SPHP (Cambodia), which was granted a licence to build the dam. The 80 megawatt (Mw) hydropower plant is being built on a build-operate-transfer (BOT) basis with a total investment capital of more than $231 million. The company has been granted a 39-year concession for the project.
Jona said the company is now demining and constructing road access to the area. The dam is expected to be complete by 2023, when it will start supplying power to the national grid.
"SPHP already signed an agreement with state-run Electricite Du Cambodge. Under this agreement it will sell electricity at 7.9 cents per kWh to EDC," he said.
The Japanese power firm eRex Co Ltd announced last October that it planned to invest $23.5 million securing a 34 percent stake in the project, with Asia Energy Power Co of Cambodia and ISDN Energy Pte Ltd of Singapore holding a 33 percent stakes each. With the Japanese firm's involvement, it hopes to boast the latest technology in the sector. Japanese companies are known to adhere to international regulations.
Schnei Tec Co Ltd, moreover, was granted permission to build a 90 mW solar power farm in Krakor district, Pursat province. The solar site is divided into two phases. The first phase will produce 60 mW a year and the rest will be built later. The farm is expected to be operational next year.
Mao Thornin, Pursat provincial governor, said at a news conference yesterday that the province is considered to be a home to the electricity supply in the country and energy investment helps contribute to the local economy.
A 120 mW hydropower plant in Pursat came into operation in 2014. The Atai plant, was invested in by the China Datang Corp at a cost of $255 million under a concessional contract of a 34-year BOT with the Cambodian government.
Last year, the nation's total power generated 3,382 mW, a 28 percent year-on-year increase over the year before. About 33 percent was generated from hydropower dams, 33 percent through coal-fired plants, 25 percent in imports from Thailand, Vietnam and Laos, 7 percent from biomass and 1.3 percent from other renewable energy.
Source: https://www.khmertimeskh.com/50725772/construction-for-pursats-power-projects-on-track/