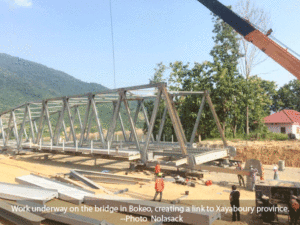 Construction of Laos' Bokeo-Xayaboury bridge passes halfway point
A 505-metre bridge spanning the Mekong River between Paktha district in Bokeo province and Khop district in Xayaboury province and linking to Thailand is over 55 percent complete.
The progress was reported when Deputy Minister of Public Works and Transport, Dr Viengsavath Siphandone and involved officials visited the bridge construction site on Sunday.
According to a report from Project Director, Mr Nolasack Sisouphanh, the bridge is precisely 55.11 percent complete. The contractor is currently forming the bridge approaches and erecting the main supports.
"The project has been extended because of funding limitations, but we are now improving the construction design to meet the new schedule for completion," he said.
The government is funding the construction cost of almost 300 billion kip. Work began in October 2017 and was initially scheduled to take 36 months.
The bridge is made of concrete and steel and is 12.5 metres wide with a surface width of 7.4 metres, and has sidewalks measuring 1.75 metres along each side.
The bridge will provide a more accessible link from National Road No. 2243 in Paktha district, Bokeo province, to Khop district in Xayboury province, and on to Thailand.
It will offer a shortcut for motorists travelling through the area and facilitate trade between Laos and Thailand.
The bridge will be important for the economic development of the region as a whole by improving the flow of goods.
When complete, it will be the longest steel bridge in Laos, followed by the Thangon Bridge across the Nam Ngum River in Vientiane and a bridge crossing the Mekong from Paklai district in Xayaboury province to Xanakham district in Vientiane province.
Xayaboury is also linked to Luang Prabang province by a bridge that spans the Mekong between Thadeua village in Xayaboury province and Pakkhone village in Luang Prabang province.
Another bridge crosses the Mekong at Pakbaeng, linking Xayaboury province to Oudomxay province.
Source: http://www.vientianetimes.org.la/freeContent/FreeConten_Construction110.php