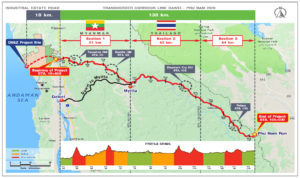 Construction of highway connecting Myanmar's Dawei SEZ to the Thai border to commence next year
The construction of a 140-kilometer two-lane highway connecting the Dawei Special Economic Zone (SEZ), in Tanintharyi Region to the Htikhee at the Thai border  [Phu Nam Ron, Kanchanaburi province] will commence in mid-2021, according to the Dawei SEZ Management Committee. When complete, it will take travellers from the SEZ about 2.5 hours to reach Htikhee by car. It will take another two hours to reach Bangkok from Htikhee.
The Ministry of Construction will oversee the project, which will be carried out with a loan from Thailand's Neighbouring Countries Economic Development Cooperation Agency (NEDA).
An environmental impact assessment and social impact assessment were recently approved.
The Ministry of Planning, Finance and Industry is preparing to sign the loan agreement with NEDA and a tender is expected to take place next year.
The highway is expected to accelerate development of the Dawei SEZ as well as local social economic conditions while strengthening trade and diplomatic relations between Myanmar and Thailand.
The development comes after Japan on November 5 offered to invest in the SEZ, which is expected to be Southeast Asia's largest industrial zone. The Japanese will be involved in developing the US$8 billion, 20,000-hectare SEZ, which will be implemented in phases and include a deep sea port and high-tech zones.
Other developments at the SEZ include land acquisition for a 230 kilovolt amperes power station and discussions with the Japanese to roll out studies to construct a deepsea port. -Translated
Additional Information from http://www.neda-daweiroad.com/
Source: https://www.mmtimes.com/news/construction-highway-connecting-dawei-sez-htikhee-commence-next-year.html