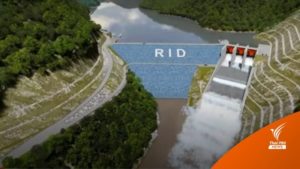 Construction of controversial Thailand's Yuam River diversion project approved
EIA reports endorsed (i) on the Mae Moh power plant project of the Electricity Generating Authority of Thailand, (ii) the Surat Thani power plant project, (iii) the special highway project from Hat Yai district in Songkhla to the border with Malaysia and (iii) the Nam Yuan reservoir project in Phayao province
Approval was granted today (Wednesday) for the construction of the controversial 70-billion-baht long Yuam River diversion project when the National Environment Board (NEB) gave the go-ahead for the crucial environmental impact assessment (EIA) of the project, also known as the Bhumibol Reservoir refilling project.
Chaired by Deputy Prime Minister Prawit Wongsuwan, the NEB also endorsed the EIA reports on the Mae Moh power plant project of the Electricity Generating Authority of Thailand, the Surat Thani power plant project, the special highway project from Hat Yai district in Songkhla to the border with Malaysia and the Nam Yuan reservoir project in Phayao province.
Permanent Secretary of Natural Resources and Environment Jatuporn Burutpat said after the NEB meeting that the Ministry of Natural Resources and Environment had expressed concern about the forested land to be sacrificed for the water diversion project and the depth of the water diversion tunnel to be built.
Deputy Director-General of Royal Irrigation Department Chalermkiat Khongwichianwat, said the department will prepare the areas to be used for the project, particularly forest reserves, estimated at 582.68 hectares, before an approval is sought from the cabinet, tentatively next year.
He dismissed some reports that a Chinese firm would be a partial investor in the project, noting that there is no law yet to charge for the use of water drawn from natural waterways, such as reservoirs, by farmers.
The project includes the construction of a 69-metre-high dam to block the Yuam River in Sob Moei district of the northernmost province of Mae Hong Son, to create a 332-hectare reservoir and a water pumping station to pump water from the reservoir into a 61-km long concrete water diversion tunnel, to be built in the watershed areas of Mae Hong Son, Chiang Mai and Tak provinces. The water will refill the Bhumibol Reservoir in Tak province.
According to the Royal Irrigation Department, the project will help irrigate 256,000 hectares of farmland during the dry season and increase electricity output at the Bhumibol Dam by an average of 417 million units per year. It will also increase tap water supply, fishing in the reservoir and boost tourism in Tak province.
The department insists that only a small number of people – no more than 30 – will be affected by the project.
Source: https://www.thaipbsworld.com/construction-of-controversial-yuam-river-diversion-project-approved/