Chipping away at power – Egat must re-establish a majority hold on Thailand's national generation
The ombudsman has ruled that Egat must re-establish a majority hold on national generation, but this plan may not be feasible
15 July 2019
What appeared to be a regular equity sell-off of SET-listed power utility companies on July 4 hinted at the perplexing deconstruction of Thailand's power-generating structure, casting a spotlight on state-run Electricity Generating Authority of Thailand (Egat).
Before the plunge in utility share prices on that day, academic Sudhiporn Patumtaewapibal submitted a letter to the Office of the Ombudsman to consider details of the new national power development plan (PDP) for 2018-37 and Egat's power generation portion.
As stipulated in Section 56 of the 2017 constitution, the government's infrastructure and utility businesses are necessary for the country's security and the government cannot allow the private sector's ownership to exceed 51%.
The Office of the Ombudsman's stance is that Egat's power generation portion should not fall below 51%. As of June 30, Egat's power generation stood at 34% of total national power generation.
Although Egat purchases electricity from other private power generators and all output has to enter the state-owned enterprise's transmission lines before being distributed to end-users, Egat does not own the country's power generation outright as is required by the constitution.
The Office of the Ombudsman's ruling in early July called for the Energy Ministry and related agencies to revise the PDP to ensure that Egat owns 51% of the power generated and to maintain Egat's portion for the next decade, all within 120 days.
NO CONNECTION
Kulit Sombatsiri, permanent secretary of the Energy Ministry, said the 2017 constitution requires state majority ownership of basic infrastructure. These include power transmission lines, telecommunications, roads, highways and railways.
Infrastructure defined under the 2017 constitution refers to the network, but power generation does not correlate with Section 56 or the stipulated 51% state ownership.
"The ministry can clear up this dispute," Mr Kulit said. "Power plants, both Egat-owned and privately owned, will not be involved in this matter. Only power transmission lines have to be under state ownership."
Mr Kulit used to be an official at the Finance Ministry, working in many departments and offices, and was one of the advisers to the State Enterprise Policy Office in 2008.
He said many network-related infrastructure items will be transferred to state ownership after concessions expire, such as mass-transit trains and expressways.
"This concession model is called the build-operate-transfer concession, which will operate for roughly 20-25 years before ownership transfer begins," Mr Kulit said.
The ministry will soon respond to the Office of the Ombudsman.
If the office is still unsatisfied with Egat's ownership structure, it can send a legal petition to the Constitutional Court for a final ruling.
The ombudsman's latest move is seen as maintaining state benefits in power generation after the capture of the sector by private producers. As recently as 2005, Egat was responsible for 55% of the country's power generation.
POWER PRIVATISATION
Egat held a monopoly in Thailand's power generation until GDP expanded exuberantly from the late 1980s to the early 1990s.
As the economy boomed, demand for power and energy grew by double-digit rates every year, but Egat did not have sufficient financial capability and business flexibility to deal with growing electricity demand.
The private sector was called upon to invest in power plants during 1990-92 to respond to rising power demand.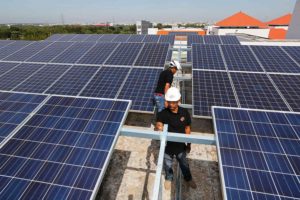 The independent power producer model was formed for private sector participation. Each IPP project generates over 90 megawatts.
IPP agreements are for Egat to purchase electricity output, with the state-owned enterprise acting as the sole off-taker and power supply controller. This is called an enhanced single buyer system.
Foreign direct investment flowing into Thailand during that period was a key driver in developing the country's power generation, with many overseas investors requiring stable power supply and transmission for running manufacturing facilities.
The government also launched another business model for the private sector called small power producer. SPP agreements could sell electricity directly to Egat, but they were also open to power purchases from surrounding companies, known as private power purchase agreements. Each SPP project produces 10-90MW.
A third model, very small power producer, was also introduced, limited to renewable power resources with power generation within 10MW. Two state power distributors, the Metropolitan Electricity Authority and the Provincial Electricity Authority, can buy electricity from VSPP agreements.
As a member of a working group devising new action plans to reform state-owned enterprises for more than 20 years, Mr Kulit said privatising these enterprises is not aimed at making them independent companies, but rather each privatised unit will be regulated by a state agency or ministry.
Each regulator will work to ensure transparency, including fair competition and reduce the government's monopoly, he said.
"Thailand's privatisation model is to improve each state-owned enterprise and make them corporations," Mr Kulit said. "Listing and floating additional shares on the stock market are examples. The power sector is regulated by the Energy Regulatory Commission, and the telecommunications sector has the National Broadcasting and Telecommunications Commission."
During 2001-06, former prime minister Thaksin Shinawatra planned to privatise the state-run utility, transport and telecom businesses to mobilise the economy, increase productivity and reduce the government's financial burden in state-owned enterprises.
PTT and Airports of Thailand listed successfully on the Stock Exchange of Thailand, with Egat, TOT, CAT Telecom and Thailand Post next in line for privatisation, but the plans were called off.
Egat's IPO very nearly happened, but a Supreme Administrative Court ruling collapsed the enterprise's privatisation plan in 2006.
CHANGE UNLIKELY
Taking action in light of the ombudsman's ruling will fail to achieve 51% state ownership in power generation because many private power plants have already been developed and are operating, said a power sector expert speaking on condition of anonymity.
A great number of plants are under construction, including a 5,000MW gas-fired power plant by Gulf Energy Development and a 1,400MW gas-fired power plant by Ratch Group.
"The ownership and proportion held by Egat will be whittled away over the next 20 years as many new power plants are operated by private companies in three forms: IPP, SPP and VSPP," the expert said.
An additional 8,300MW of electricity will be imported from Laos, and this power will be inaccessible by Egat because the organisation is a power purchaser.
"Private investors have been granted rights to every type of power plant, except coal-fired types, and Egat is in charge of power generation from coal and lignite," the expert said.
Under the new PDP, there are power plants being auctioned soon for private sector participation, covering gas-fired and combined cycle type (13,156MW), gas-fired co-generation type (2,112MW), coal-fired (1,740 MW) and renewable resources (20,766MW).
Naruepat Amornkosit, secretary-general of the Energy Regulatory Commission (ERC), said state ownership is not a crucial point for the agency because its duties are to ensure fairness in the power sector.
When the ERC worked on a large takeover deal between Global Power Synergy (GPSC) and Glow Energy last year, Glow had to sell one power plant in the Map Ta Phut area to a third party, B.Grimm Power, before selling all assets to GPSC.
"The ERC's action was meant to avoid giving GPSC a monopoly in private power purchase agreements in Map Ta Phut Industrial Estate," Ms Naruepat said.
Somruedee Chaimongkol, chief executive of energy and mining firm Banpu, said the power-generating trend is developing fast and will not depend on power distribution through the state grid under Egat.
She said the government should further promote renewable energy and on-site distributed power generation in line with the new PDP, including 10,000MW under the household solar rooftop scheme.
"The government should promote this by developing the country's basic infrastructure in order to synchronise electricity for the grid," Mrs Somruedee said. "This method will help the government to achieve decentralisation, which is set under the new PDP."
Independent power supply in the country should be promoted by the government, she said, because businesses will have more competitiveness in reducing energy cost.
The more decentralisation is done, the more developed many rural areas will become in terms of power stability because the farthest rural areas will have local power grids instead of being dependent on Egat, Mrs Somruedee said.
"Developed areas with stable power should not be only in Bangkok, suburbs and major provinces," she said. "Renewable power will be another option for rural areas, and this can be developed further and supported by Egat's transmission system."
Source: https://www.bangkokpost.com/business/1712584/chipping-away-at-power