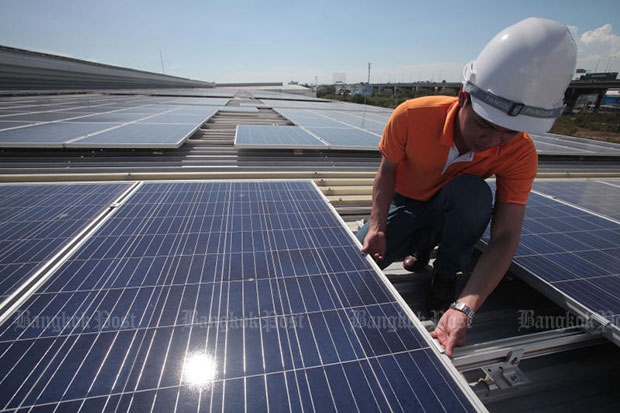 Chinese solar companies are looking for opportunities in Thailand as an alternative growth destination to China, where the renewable power market has reached saturation point, according to BMI Research.
Thailand is emerging as an attractive destination for renewable energy investment as the government looks to reduce the country's reliance on gas-fired power generation and incorporate other sources into the power mix.
To achieve the goal, the government has introduced a number of policies to support growth in the industry and encourage investment by improving the returns for renewable energy projects.
These measures include feed-in tariffs, tax incentives and energy production payments.
"The increasing attractiveness of the Thai renewables market is reflected in the growing investor interest in the market, particularly from Chinese solar energy developers and manufacturers," BMI said in its report.
In the solar segment specifically, overproduction in the solar manufacturing segment has exposed Chinese solar manufacturers to vast overcapacity.
As a result, Chinese manufacturers are increasingly looking to alternative markets for growth, with neighbouring emerging Asian renewables markets set to offer significant opportunities to capitalise on.
BMIฺ highlighted Thailand as one of the key outperformers for solar power, particularly for Southeast Asia, as the country's ambitious renewable targets and supportive policy environment encourage investors into the market
The trend continues to play out, with several Chinese solar manufacturers committing investment and setting up module production facilities in the rapidly expanding Thai solar industry over the last year.
They included Trina Solar, Zhongli Talesun Solar, Symbior Solar, Suntech Power and, most recently, Yingli Green Energy.
Yingli Green Energy announced recently it will establish a 300-megawatt photovoltaic panel production plant in Rayong province in conjunction with Thai company Demeter Corporation.
That will provide more solar power generation from the current 600 megawatts of combined power the Energy Regulatory Commission expects after granting licences to offices of state agencies and agricultural cooperatives for developing projects.
BMI expects solar capacity to increase by an annual average of 13.2% between 2015 and 2025.
Source: http://m.bangkokpost.com/news/833588