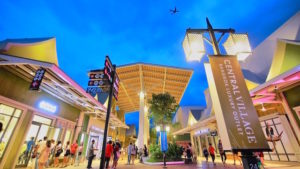 Central Pattana (CPN) and Mitsubishi Estate form JV to boost Central Village outlet mall
28 November 2019
Central Village parent Central Pattana (CPN) has attracted foreign investment from Japanese real estate developer Mitsubishi Estate through its Singapore-based subsidiary.
Under the agreement, the Thai property development firm is a majority shareholder with a 70-per-cent stake in CPN Village Company, while the Japanese property developer shares the remainder. This recently penned deal will bring total of THB1 billion (US$33.1 million) investment to Thailand.
The deal reflects the confidence of the Japanese investor in both Thailand's and CPN's potential. The partners hope to push Central Village, Thailand's first international luxury outlet, to become Asean's best luxury outlet.
In terms of progress, the first phase of Central Village has seen nearly 100 per cent of its luxury brand stores opened. The retailer continues to boost visitors' spending by offering on-top discounts on brand-name products, which are already 35 to 70 per cent off year-round. It will also promote tourism and trade between Thailand and Japan with activities such as roadshows and a Thailand–Japan Expo.
"Today marks a monumental leap for CPN towards its strategic goal to forge partnerships with global business leaders, especially ones with considerable expertise in their industries, to jointly create and deliver new initiatives to accommodate the contemporary fast-changing and highly dynamic customer lifestyles and preferences," said CPN's president and CEO Preecha Ekkunagul.
"Through lengthy periods of discussions, we are pleased to secure an experienced global industry leader as a strategic partner for Central Village, the first world-class luxury outlet in Thailand."
Source: https://insideretail.asia/2019/11/28/cpn-and-mitsubishi-estate-form-jv-to-boost-central-village-outlet-mall/