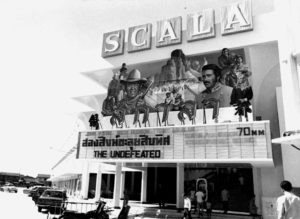 Can Bangkok's historic art deco theater 'The Scala cinema' be saved?
Last week we published the news article "Bangkok's historic art deco theater 'Scala cinema' doomed to become Central mall" sourced from from Coconuts' website.
We received the following very interesting follow-up by regular reader John Lukens:
I contacted a retired professor of Urban Planning at Thammasat University (a former advisor in historic neighborhood protection to the BMA). He reported that there's considerable interest and concern in the urban planning/ architecture circles in protecting the Scala. He notes:
1) "Scala theater is one of the endangered buildings that we put on a list under the Docomomo Thai Chapter." See link: http://www.docomomothailand.org/pages/no11.html (Good photos of the interior.)
2) "The Conservation Commission of the Association of Siamese Architects (ASA) has done several campaigns and programs to save Scala including ASA Heritage Awards in 2012. This award is given by Princess Sirindhorn." This should prevent demolition but may not prevent renovations that could destroy the historical and architectural integrity of the building.
Here's a link to the 2012 interest in the Scala: https://bk.asia-city.com/city-living/article/architectural-heritage-preservation-bangkok
However, unfortunately,
3) Legal protection is not possible due to" the Fine Arts Department's rigid conservation concept (the 'Materials-based approach')" – as apparently the Scala is not old enough (my assumption).
Because of this
4) "There will be no analysis of what is called 'Preparing Statement of Cultural Significance' before a decision is made on the Scala's physical treatment."
So it seems that a property that should and could be protected is not protected because of some institutional boundaries and bureaucratic restrictions.
Pity!
On the bright side, he says the Rattanakosin Committee is doing a credible job in protecting the Old Bangkok/ Chinatown area. (This is up to Khlong Padung Krung Kasem, which means that the threatened Hua Lampong RR station is just outside their jurisdiction.).
I walked around Chinatown recently, and was impressed by the integrative architectural design of the new Wat Mangon MRT station, and the attractive new brick-orange tile pavements in the alleys.